The 8 Best Toddler Utensils For Self-Feeding Success, According To A Pediatric Occupational Therapist
We only recommend products we love and that we think you will, too. We may receive a portion of sales from products purchased from this article, which was written by our Commerce team.
by Lauren Beach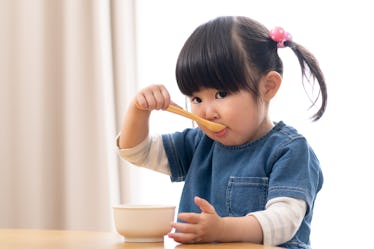 Shutterstock
There is nothing more exciting for a toddler than graduating from their soft baby spoon to their very own set of big-kid cutlery. The best toddler utensils offer young eaters the first step towards independence at the dinner table with thoughtfully designed features to make eating easier as they learn how to master scooping, spearing, and getting food into their mouths. I reached out to Pediatric Occupational Therapist Emma Hubbard for advice on what to look for when shopping for the best toddler utensils for self feeding.
The Expert
Emma Hubbard is a pediatric occupational therapist with over 12 years of clinical experience. She received her bachelor's degree in occupational therapy from the University of Newcastle. She is also the founder of Brightest Beginning, a website and YouTube channel dedicated to helping new parents on topics related to child development, feeding, sleep, toilet training, and more.
When Should Toddlers Start Using Utensils?
Around the time babies turn 1, you can introduce the independent use of a spoon, although it will take some time for them to master self-feeding skills. Hubbard says that by age 2, most toddlers should be able to use a spoon with "minimal spillage" and that they can begin learning how to use a fork. As for knives, Hubbard says 5-year-olds are ready to "spread and cut" with them, though toddler sets sometimes include blunt or rounded knives for practice. She clarifies that children can begin using a knife and fork in concert to cut up food at age 7.
What To Look For When Shopping For Toddler Utensils
When it comes to finding the perfect toddler utensil set for your tiny gourmand, Hubbard says there are a few things to keep in mind. She says it's important that handles are easy to grip for still-developing toddler hands and she recommends cutlery with shorter, more cylindrical handles. These kinds of handles allow "the toddler [...] to use less finger strength" and that makes it easier for little hands to hold onto the utensils longer.
She recommends forks with "curved outer tines [to] ensure that the toddler doesn't accidentally poke themselves in the cheek." She says stainless steel forks make spearing food easier because plastic tines can require more force and bend, which is why the list below only includes models with stainless steel prongs or heavy-duty plastic that won't bend under pressure. Hubbard suggests buying spoons with a bowl (aka the eating end) that is "deep but narrow." Wider spoon bowls can require a child to tilt the spoon, which (you guessed it) leads to spilling.
How Can Parents Help Their Toddler Learn To Use Utensils?
Hubbard says there are three key things to keep in mind when teaching your toddler to use cutlery: choosing child-sized cutlery, giving them non-slippery foods that won't fall apart when stabbed with a fork, and showing them how to use cutlery during meals. She says it's crucial for kids to "practice, practice, practice!"
She also suggests encouraging toddlers to engage in play that will further develop their fine motor skills, like "posting activities, playing with Duplo and blocks, playing with play dough, drawing, painting, etc."
With all that in mind, it's time to get ready to set the table — for the whole family. Ahead you'll find the best toddler utensils for all kinds of tasty bites.