The Best Axes for Throwing, According to Pro Axe Throwers
Want to fling some hatchets in your backyard? Here's what you'll need — and need to know.
by Hudson Lindenberger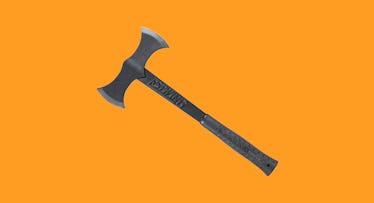 In the past decade, the activity of axe and hatchet throwing has gone from lumberjack pastime to national phenomenon. Hundreds of axe-centric bars and venues, with such names as "Urban Axes," "Bad Axe," "Mother Huckers," and "Huck Yeah!" have popped up in major and minor cities across the country, providing opportunity to take out some anxiety and aggression while knocking back a couple of craft brews. It's even become a bona fide sport, with professional leagues, including the World Axe Throwing League (WATL) and the National Axe Throwing Federation (NATF), holding competitions around the U.S. and the world. Whether you're into the idea of a massive claymore-sized axe or the speed and maneuverability of hatchet throwing (think: the modern equivalent of darts), the common denominator is a hell of a lot of fun and an eye on the target. Our guide will provide rules, the basics of an axe-throwing kit, and even a means of setting up your own home-made setup.
The ground rules are simple: Players fling sharp weapons at a 36-inch wide target and receive points based on where their throws sink into the target. It's exciting. It's challenging but not too challenging. It's a throwback to a wilder time (the last pun, we swear). And, again, there's usually beer on premises.
"It's a ton of fun and so much better than darts," says Darren Sonnier the owner of Kick Axe Throwing which has locations in Brooklyn and Washington D.C. "You get this awesome feeling when the axe sinks into the wood. It's super satisfying. And anyone can do it — young, old, men, women, it does not matter."
With COVID tacking down across the country, we've grown antsy to return to the axe-throwing range any minute, but it's easy to set up your own range on your property. Here's everything you need to throw axes it in your backyard as well as picks for the best throwing axes, throwing tomahawks, and throwing hatchets.
How to Set Up An Axe-Throwing Area in Your Backyard
As you're dealing with axes or hatchets flying through the air — weapons that can cause a fair amount of damage, or even death — proper precautions are necessary. The first thing to do is find a spot that is clear of obstacles around your intended target area. It can be in your backyard or even a garage if you have very high ceilings (minimum 12 feet tall).
Once you have identified where you will be tossing, most experts recommend building a backstop with sidewalls six feet apart to contain the axe after it's thrown. Then you want to measure 12 feet from the target and make a three-foot deep throwing box on the ground. That's where people will stand when they throw (any closer could be dangerous.) According to Sonnier, most guys do well from 12 feet and women tend to fling from 14 or 15 feet.
How to Make an Axe-Throwing Target
First thing's first: You want a flat target. "Don't throw at a tree trunk. You will kill the tree, and the chances of the axe ricocheting off in a dangerous direction are high," says Sonnier "Take the time to create a flat target to toss at. It will be much better and more fun."
You can build one from plywood or any other soft wood. It's better, however, to buy a large circular tree stump from a lumber or saw mill that you hang flat. It should be at least 24-inches in diameter. This will last longer and is easier for the axe to stick into. Install a 4 x 6 backstop on which to mount targets. Build it from 2 x 10s with a header and footer on top of five boards mounted vertically together — it should look like a dartboard backstop.
On the targeting area, paint a basic bull's-eye target of five rings, with two small circles (the kill shots) located at 10 and two (like a clock) in the outer circle.
With this setup, you can follow the WATL basic scoring rubric when tossing. Scoring is six points for bull's-eye, four points for second ring, three points for third ring, two points for fourth ring, one point for fifth ring, and 10 points for kill shot. Ten throws per match, highest aggregate score wins. A tie goes to sudden death with higher throw winning.
Most experts recommend coming in to an establishment to learn the basics before heading into the backyard to throw. "You can learn the basic and advanced throwing techniques from a professional to enhance your skills," Sonnier says, along with learning basic safety protocols.
What Types of Axes Are Best for Axe Throwing?
Once you've built a backyard arena for safe throwing, now you need the most important thing: an axe.
"The best part of axe throwing is you really don't need to spend much money on an axe," says Melanie St. Amour of Bad Axe Throwing. which has a variety of locations in Canada as well as Chicago, Atlanta, Denver, Indianapolis, Oklahoma, San Francisco, and Washington DC. "Just about any camp hatchet will do, but you can get something a bit more interesting too."
According to St. Amour, when starting out it's easier to go with a heavier axe between three to five pounds, as they stick in the wood easier and are more forgiving. Once you improve your technique and are looking for more precision, then you can go for a lighter axe (1.5 to 1.75 pounds).
One thing to note: Wooden handles might look good but they also break, especially when used by beginners. Steel one-piece axes with a 14-16 inch handle are a good choice.
Keeping this in mind, here are the best throwing axes, throwing hatchets, and throwing tomahawks to buy.
The Best Throwing Axe and Throwing Tomahawk for Beginners
The Best Throwing Axes and Throwing Hatchets For Intermediate Axe Throwers
The Best Throwing Axes and Throwing Hatchets For Experts
A Few More Throwing Axes For Axe-Throwers of All-Levels
Every product on Fatherly is independently selected by our editors, writers, and experts. If you click a link on our site and buy something, we may earn an affiliate commission.
This article was originally published on