8 Great Tennis Accessories for Kids Ready to Hit the Court
From Rafa's racket to softer balls, this is the best gear to get your kids volleying.
by Jon Gugala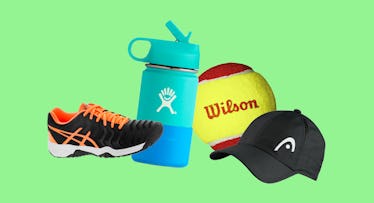 There's never been a better time to introduce your son or daughter to the sport of tennis. From its full-body exercise to near equal gender participation, tennis offers a host of benefits. Non-contact while fostering social interaction, it's a sport that, according to U.S. Tennis Association head of Community Tennis Craig Morris, will pay dividends throughout their lives. But their participation doesn't happen on its own.
"There's a level of commitment that, as parents, we have to make to engage our kids in physical activity. It's not something that kids can drive themselves," Morris, a father of three, says. "As a dad, I try and take that responsibility and accountability. If I want my kids to play sports and be active, then it starts with me."
There's another reason that now is the perfect time to introduce your child to the sport: last year's USTA launch of the youth-focused Net Generation, which has overhauled the sport's rules from the dimensions of the court to new equipment allowances for young players. Using a graduated system, kids can have fun while learning techniques they'll build on later. When your kids are ready to hit the court, here's the best starter tennis gear for kids.
Babolat Nadal Junior 19
The current world number one's signature racquet is available in a feature- and feather-light version, making it a perfect way to connect your children with the sport they see on the TV to the sport they'll play later. While this specific model is for children under 5, the company also makes bigger options for older kids (check USTA's guide for sizing by age).
Wilson Starter Red Tennis Ball Bag of 36
With 25 percent of the compression of a traditional ball, Reds are designed for the youngest players so they can play longer and without discomfort. We like the 36-count because, after chasing a mere three around the court a few times, we appreciated having a bunch on hand.
Tourna Sampras Mini-Ballport 36 Balls
With all those balls, you're not going to stuff them in your pockets. The Mini-Ballport keeps your balls organized and handy on-court, and when it's time to collect, slide the legs to its top and squash them back into the basket via a rolling-wheel mechanism without bending over.
Asics GEL-Resolution 7
Buying shoes for your kid is dicey with as fast as their feet are growing, but let us make an argument for buying tennis-specific footwear regardless. Abrasive courts chew through regular shoes. The GEL-Resolution 7's resistant outsole and toecap ensure they last long through their first season.
Head Pro Player Hat
In hot, direct sun, a hat like the Pro Player just makes the experience more enjoyable. We liked its lightweight, moisture-wicking polyester fabric and Velcro back that cinches securely on tiny noggins.
All Good Kids Sunscreen SPF 30 Spray
Water- and sweat-resistant for 80 minutes—or more than long enough for your first outings, this spray-on can makes application and re-application easy. Organic ingredients like green tea, rose hips, buriti oil, and chamomile make it gentle on kids' skin.
Hydro Flask 12oz. Kids
The silicon bottom ensure it's not rolling around the court, while the double-walled, stainless steel vacuum insulation keeps drinks cold on the hottest days. The flip-up sipper is easy for kids to use and leak-proof when folded down.
Every product on Fatherly is independently selected by our editors, writers, and experts. If you click a link on our site and buy something, we may earn an affiliate commission.
This article was originally published on