The Best Telescopes for Kids and Families
The best means of viewing the nighttime sky within every budget
by Jon Gugala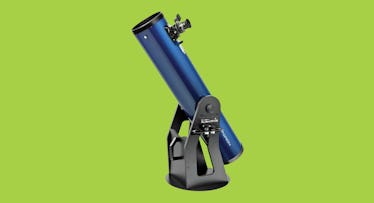 This summer has been packed with astronomical events — and we're not being hyperbolic. The Perseids were shooting all of July and August, along with the Alpha Capricornids and the Southern Delta Aquariids. The moon met Venus in mid-July, while, later that month, Mars was its brightest in more than 15 years. This fall will be just as exciting, what with Neptune at Opposition, the Draconid meteor shower, and the Leonids meteor shower. In short, there's never been a better time to stare up at the stars with your son or daughter. Even better: telescopes aren't the fiddly things you remember using as a kid. They're affordable and powerful, smartened up by tech and inexpensive models feature lenses that, a few decades ago, cost as much as your car. Here are some of our favorite telescopes for pondering the cosmos.
Celestron Kids 50mm Refractor with Case
For kids that flit from interest to interest or if it's your idea for a telescope (and your kid is a big question mark), don't break the bank with the Celestron Kids 50mm Refractor with Case. Entry-level price, certainly, and we prefer the refractor style (eyepiece at the bottom) for young children, since the category requires little maintenance or adjustment. A coated front lens offers even more protection from accidental scratching.
Meade Instruments Lightbridge Mini 130
For tabletop-mounted observation, we like the Lightbridge Mini 130. At 13 pounds, it's not the lightest, but its 130-millimeter body (around five inches) is an ideal telescope for those wanting to take their viewing to the next level. Including both low- and high-magnification eyepieces and a 360-degree rotating base, we found it super versatile. Take note: Its reflector-style design (eyepiece on the top) means that severe jostling can knock its elements out of place, making it a better choice for more mature children.
Levenhuk Skyline Travel 50 Telescope
As its name suggests, the Skyline Travel 50 is the field scope for you and your adventurous kiddo. At just over five pounds, your child can easily ruck it into the field, with the refractor design can withstand reasonable jostles along the way. The alt-az mount, which attaches to the included aluminum tripod, adjusts up, down, left, and right for easy switches between stars.
Orion SkyQuest XT8 Plus
With the XT8 Plus, Orion took one of its most popular telescopes and lightened it for field use. This refractor-style unit also received a bunch of fine-focus upgrades, making its already huge 8" primary mirror able to resolve so sharply that it can view dust lanes in nebulas (no exaggeration). Despite all its high-sounding bells and whistles, this is still a point-and-view unit, making it something that won't be too advanced for your budding astronomer.
Explore Firstlight 114mm Newtonian
Call it an inbetweener, the Firstlight Newtonian easily be trekked into the field while being perfectly content in the home. The included tripod breaks down for storage but looks handsome enough to leave out, while the Nano mount was an easy on/off latch that was nevertheless remarkably secure. We especially liked the included smartphone adapter, which let our kid share his view with the world (and his mom).
This article was originally published on