Best Teeth Whitening Kits That Are Safe and Effective
They'll whiten your teeth, right at home.
by Donna Freydkin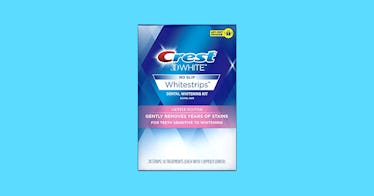 Do those teeth-whitening kits you can buy in drugstores really work any better than your average whitening toothpaste? Why, yes, these cheap and easy-to-find strips you apply to your teeth do the job and do it well. That's provided you use them as directed.
"They do work," says Dr. Edmond R. Hewlett, a dentist and a professor at the UCLA School of Dentistry. "The active ingredient in those strips is the same as the gel that the dentist gives you to take home."
He's talking about hydrogen peroxide, which is in the kits you can buy for about $30. Your best bet is to buy whitening kits that are ADA-accepted, which means they were declared safe and effective by the American Dental Association. And it also means that they deliver on their promises.
The ADA seal means the whitening kits won't demolish your enamel or destroy your gums in your quest to have a glittering smile. It bears pointing out that you should already be brushing your teeth twice a day.
"We're talking about adhesive strips. The strips don't hurt gums or enamel. The peroxide can irritate the gum, but you only have the strips in for a short time. The risk is almost nil," says Hewlett. "The strips for some people might take a little longer but not to a degree where I would call it a disadvantage."
Of course, there's a caveat. "The strip only covers a certain number of teeth. If you have wider smiles, the strip is not going to cover that. Cavities or old fillings don't whiten. Tetracycline staining from antibiotics won't whiten," says Hewlett, who recommends you see a dentist before embarking on any dental adventures to make sure your teeth can go lighter.
Related: Best Whitening Toothpaste That Is Safe for Your Teeth
These three kits bear the ADA acceptance seal, meaning they work, and they won't gum up your smile. Just remember that if you drink tons of coffee, try and rinse your mouth out after every cup.
You apply the teeth whitening strips once a day for 30 minutes, then apply the blue light to the upper and lower teeth until it turns off.
Ingredients: PVP, Water, PEG-8, acrylates copolymer, hydrogen peroxide, sodium hydroxide, sodium saccharin.
Apply this teeth whitening product once a day for for 30 minutes and you should see full results in 10 days.
Ingredients: PEG-8, water, hydrogen peroxide, acrylates copolymer, sodium hydroxide, sodium saccharin, glycerin, carbomer.
Like its brethren, you apply the strips once a day for 30 minutes, and use the blue light until it turns off on its own.
Ingredients: PVP, water, PEG-8, acrylates copolymer, hydrogen peroxide, sodium hydroxide, sodium saccharin.
Every product on Fatherly is independently selected by our editors, writers, and experts. If you click a link on our site and buy something, we may earn an affiliate commission.
This article was originally published on