The Best Back-To-School Tablets for Kids
A proper tablet for every age.
by Ben Radding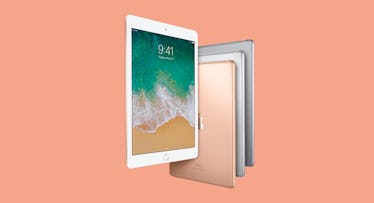 With school just around the corner, you're probably looking for all manners of back-to-school supplies for your kid. Notebooks? Check. Pencils? Sure. Trapper-keeper? Gotcha. Tablet? … Yes, you kid should probably have a tablet.
Tablets can do so much more for your kids — no matter the age — than just provide hours of much-needed mom-and-dad quiet time. They can help your kids learn and be a whole lot more productive. They can introduce your kids to new culture and new ways of working. And, importantly, they can help you transition your kids to the future. The world runs on computers, so might as well start them early.
We've rounded up the best possible tablet for any age below—from a curious kindergartener to your starry-eyed valedictorian. Even though they're (ostensibly) for school, your kids won't be able to thank you enough.
KINDERGARTEN/PRE-SCHOOL
Fuhu Nabi Elev-8
We're guessing your tyke doesn't need a ton of processing power in their school tablet. So if you're going to get a kindergartener a tablet, make it this one. This simple Android tablet is skinned to be kid-friendly. Instead of an open home screen, there's educational tools, a chore list, and a very limited web browser. It comes with a learning system baked in that has 16,000 lesson in it according to Common Core State Standards. And it has robust parental controls, so you can monitor how long your kid spends on it and where they go on it. Plus, the rubber bump sides make it drop friendly — always a plus with little kids.
BEST FOR ELEMENTARY SCHOOL
Amazon Fire HD 8 Kids Edition
Amazon has made a name — among many other things — out of many awesome budget tablets, and the kids edition of the Fire HD 8 is no outlier. Like the Nabi Elev-8 above, it has parental controls (naturally) for up to four different child profiles and a nice bumper that protects against drops, but it has a much more substantial content suite. Amazon's FreeTime Unlimited, free for the first year of use, includes access to over 15,000 books, games, educational apps, and movies — all of which kids will love. Plus, with the Kindle app, they can read their homework on the screen without you throwing cash at back-to-school books.
BEST FOR MIDDLE SCHOOL
Samsung Galaxy Tab A 8"
When you start to get up in years, you start to require a little more horsepower. No problem. The budget-friendly Samsung Galaxy Tab A 8-inch tablet has a streamlined Android experience that gives your kid access to all the apps, games, and books they could want, plus an incredible 14-hour battery life. Perfect for pre-teens on the go. When you get it, be sure to download the Kindle app and other essential school apps that your kid will want to gloss over for the crisp mobile games. It's a perfect start tablet for a kid just getting used to independence and technology. And if you're worried at all, it comes with a stripped-down Kids Mode.
BEST FOR HIGH SCHOOL
Apple iPad 9.7"
Older kid, bigger slate. The Apple iPad 9.7" is the gold standard of tablet from the company that, well, invented the tablet. It has all your high schooler's must-haves — from Instagram to whatever-the-hell-is-after-Instagram — plus the educational tools they need, like iTunes U and iBooks. The best news? The iPad now has support for the Apple Pencil (previously available only on iPad Pro, and sold separately). That means your kid can annotate, draw, and take notes on their iPad with an industry-leading stylus. The A10 chip inside and the gorgeous Retina display make it the fastest and most beautiful tablet on the market.
BEST FOR COLLEGE
Microsoft Surface Pro
Skip the clunky ultrabook this season. Not a full-blown computer and not quite a tablet, the Microsoft Surface Pro is the productivity machine that a college-bound student deserves. It transforms from a tablet to a laptop with the attachable keyboard cover, making it a dual threat for both work and play, and it's ultra-light at only 1.7 pounds, fitting into any backpack or messenger bag. Battery life is more than you get with most notebooks, never mind tablets, staying fired up for 13.5 hours. And, of course, you get the native ecosystem for seamlessly running Microsoft's suite of school- and industry-standard apps like Word, Excel, and so much more. There's no better tablet for a college kid out there.