The Best Baby Swaddles So Parents Can Get Some Damn Sleep
Because a swaddled baby is a sleeping baby.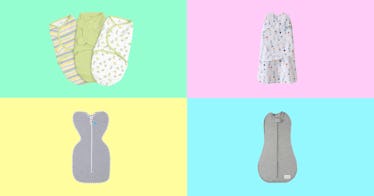 Think of it as a magical sleep burrito for your newborn: When deployed correctly, a baby swaddle is an essential piece of baby sleep gear that makes infants feel snug and secure, and buys bleary parents minutes (and sometimes even hours) of extra sleep. The goal of the best baby swaddle blankets is to calm and soothe infants by mimicking the feeling of a mother's womb. Plus, they reduce what's called the Moro reflex, which is when a baby makes a jerky movement and wakes himself up. Which is sort of precisely what you do not want.
When choosing a swaddle, keep a few things in mind:
The swaddle should be large enough that you can wrap it snugly around your baby. Yes, your baby will outgrow it quickly. That's just life. Once babies can roll over, it's time to ditch the swaddle for safety reasons and switch to a sleep sack.
The swaddle should be soft and weather-appropriate. In the summer, opt for lighter fabrics. In the winter, go for warmer ones but make sure your baby doesn't overheat. If your swaddle has zippers or Velcro, make sure they're not in contact with or irritating delicate baby skin.
Most of all, parents should easily be able to use the swaddle. Because midnight diaper changes, squirming or crying babies, and swaddles requiring engineering degrees don't make for happy bedfellows.
Every product on Fatherly is independently selected by our editors, writers, and experts. If you click a link on our site and buy something, we may earn an affiliate commission.
This article was originally published on