The Best Surprise Egg Toys to Put In Easter Baskets for Kids
There are a lot of surprise egg toys. These are our favorite.
by Mike Dojc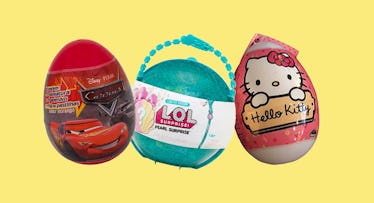 'Tis the season for baskets, bunnies, jelly beans, and, of course, eggs. But now, thanks to the trend of surprise toys, toy-filled eggs are a year-round obsession and they crop up everywhere from YouTube videos to the checkout lines at your local grocery. Of course, with ubiquity comes a lot of pale imitations. So, if you're searching for an egg-shaped gift for your kid, be it for Easter baskets for kids or otherwise, what are the surprise egg toys you need to know about? Glad you asked. We surveyed the market and arrived at the ten best egg surprise toys from the likes of Hatchimals, L.O.L Surprise, and Shopkins.
RELATED: The Best Easter Gifts For Kids Under $50
Hatchimals CollEGGtibles
The adorable purple hearts emblems on these mini versions of the beloved Hatchimals aren't merely decorative. To incubate each speckled egg, you need to hold it in your hands and rub the heart until it turns pink. Then, the creature who lives inside will start to crack open their shell. There are more than 70 glittery-winged creatures in the first series to hatch.
Shopkins Series 4 Surprise Egg
Inside of each of these surprise eggs is a pair of Shopkins waiting to be discovered. Will one be a Posh Pear? A Miss Mushy-Moo? One of the more limited editions — but equally absurd named items — like Pretty Bow Kay and Frenchy Perfume? Only time will tell.
Prextex Jumbo Dinosaur Surprise
Take the playroom time machine back to the Mesozoic Era with these Easter eggs. They're filled with three thumbs of individually wrapped colored dough along with two 3D dinosaur molds. Kids will have an army of ankylosauruses ready for their marching orders stat.
L.O.L. Surprise Pearl Surprise
This pretty purse packs unbridled unboxing excitement with six pearly surprise balls inside stocked with doll accessories. The main attraction, though, is a large seashell positioned stage center which will put on a show fizzing away when dunked in water to reveal a smaller seashell that acts as a doll stand along with blind bags of little sister and tot dolls.
L.O.L. Surprise! Series 3 Lil Sisters
When your kid unwraps this plastic ball, they'll get a little clue about the mystery sister within so they can venture a couple guesses before popping it open. There's also a handy collector guide to help I.D. 'lil sister. Next, it's showtime: Give sis a bath and behold their spectacular color change. Each pack comes with a small and large accessory and a key chain carrying case.
Crayola Giant Easter Egg with Silly Putty
These hefty red surprise Eggs tip the scales at 1 lb. Inside is nothing but Silly Putty, primed and ready to squish, stretch, bounce, pop, or press against newsprint. That is, if you still have newspaper around your house.
Hello Kitty Surprise Egg
If your kids need their fix of the beloved red bowed kitty first sketched by Yuko Shimizu in 1974, three Easter eggs worth of Hello cuteness ought to do the trick. Each contains either a figure, ring or hairband. There are also stickers and candy inside.
Avengers Mash' Ems Series 4
May want to use Hulk strength to crank open these Mash 'Em capsules and bust out squishy pint-sized versions of Ant Man, Captain America, Iron Man, Vision and Thor. Don't be freaked out that they're basically heads with tiny arms and feet attached.
Cars Surprise
Collect miniature (3cm tall) versions of Mater Fillmore, Sally, Doc Hudson along with everybody's anthropomorphic stock car Lightning McQueen. The paint jobs on the vehicles are on point, but one knock is the tiny little plastic wheels don't turn.
L.O.L. Surprise Big
The L.O.L. surprise motherlode is packed with 50 surprises. L.O.L. diehards will be in seventh heaven diving into the myriad of color changer big and lil' sisters, doll accessories, and bath fizz charm madness contained within this glittery plastic sphere. Just be aware: You will step on the tiny pieces eventually.
This article was originally published on