The Best Sunglasses for Men: 12 Pairs For Every Style and Budget
by Donna Freydkin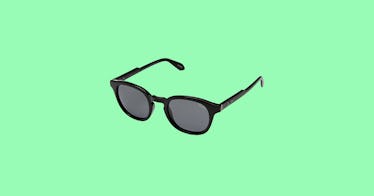 Sunglasses for men are not just a fashion statement. Sure, the right pair of men's shades can upgrade your style. But they're protective necessities in the harsh sunlight. For instance, the best sunglasses for men can also prevent wrinkles around the eyes. Vanity aside, according to the American Academy of Ophthalmology, if you expose your eyes to strong sunlight without wearing proper sunglasses, you can wind up with a burnt cornea. Yes, that's about as fun as it sounds. And long-term sun exposure can lead to an increased risk of cataracts, cancers, and growths on or near eyes.
So the long and the short of it is, wear sunglasses. Look for those that provide 100 percent UVB and UVA protection to make sure you're getting max coverage. UV rays can actually penetrate through clouds, so wear sunglasses even on overcast days. A few other no-brainer tips:
Make sure sunglasses block 99 to 100 percent of both UVA and UVB radiation, and don't let price fool you: Even cheap ones do the job, if the label says so.
Oversized sunglasses are better because they protect more of your eye area.
Dark lenses do not block more UV rays.
Polarized lenses reduce glare, and are ideal if you're going swimming or skiing.
Taking consideration of both protection and style, here are the best pairs of sunglasses we found, for every taste and budget
Best Sunglasses for Men
Every product on Fatherly is independently selected by our editors, writers, and experts. If you click a link on our site and buy something, we may earn an affiliate commission.
This article was originally published on