The Best Stomp Rockets & Foam Rockets For Kids
Spend some quality time with your kid shooting these rockets hundreds of feet into the air.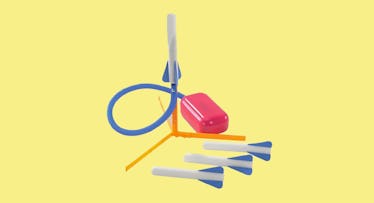 A key ingredient in the success of many toys over the years is the ability to launch stuff into the air. Baseball bats. Model rockets. Another example is the Astroblast Rocket Booster, a toy "where you give missiles the muscle!" Released in 1978 by Mattel, the Astroblast allowed kids to shoot plastic rockets in the air by stomping down on an air-filled chamber with their foot. Fun!
The Astroblast didn't last long, but its spirit lives on in the foot-operated air rockets you can buy today. Depending on the manufacturer, they are known either as Stomp Rockets or Jump Rockets, but the basic mechanism is the same as the Astroblast's. Instead of using their hands, kids fire off their rockets or rocket-like projectiles by stomping or jumping on an air-filled chamber.
These toys are great for a few reasons. They're much safer than traditional rocket engines — as long as no one gets hit in the face with a rocket things should be fine. And they encourage kids to get outside and be active, jumping as high as they can in order to make the rockets go as high as they can.
The manufacturers of these toys also hold up foot-powered rockets as tools for teaching STEM, particularly basic concepts such as physics like force, gravity and trajectory. One of the two companies even published a book designed to help teach these concepts using the rockets.
If you're interested in getting in on the foot-powered rocket action, here are seven awesome stomp rocket to get you started.
Geospace Jump Rocket Original
This set comes with a launcher and three rockets, which Geospace claims can travel up to 300 feet due to its patented Thrust Booster. This is the best option for a straightforward rocket-launching experience.
Stomp Rocket Stunt Planes
Instead of simple rockets, this set comes with three specialized planes. The Looper performs giant loops, the Glider goes up to 100 feet in the air, and the Wildcat performs flips and other such stunts after takeoff.
Dueling Stomp Rocket
Why fire one rocket when you can fire a second at the same time? This set can fire two rockets simultaneously with one jump/stomp. "Dueling" may be something of a misnomer, as the rockets both shoot straight into the air. But it's easy to imagine kids being captivated seeing which flies higher.
Stomp Rocket Jr. Glow
These rockets are great for using at night. Not only do they glow in the dark, making them easier to spot once you do go out hunting for them, but they're also smaller, which means they don't travel as far, reducing the area you need to search once they come down to earth. The person who created them definitely has kids.
Stomp Rocket Ultra Party Pack
If your kid gets really into these rockets, you should consider picking up this kit, which comes with one launcher and 10 rockets. As a bonus, if you have a large group of kids around waiting their turn with the launcher they can fire hand-powered rockets at each other. The set comes with four such hand launchers and 20 rockets.
Geospace Jump Rocket Mini
This set is designed for kids as young as three years old who may not be heavy enough to get much air from full-sized versions of the toy. The rockets are made of soft foam (so they won't hurt if a kid gets bonked in the head by an inbound rocket) but still travel up to 50 feet in the air.
Stomp Rocket Extreme Rocket
While it might not be as extreme as it's title, this rocket is still pretty rad. Manufacturers claim that this rocket gets the most range of any foot-powered rocket, saying it will travel up to 400 feet. 400 feet! It also comes with flame stickers to apply to the sides of the rocket, for maximum badassery. The set comes with six rockets because, let's face it, most will get caught in the trees.
Every product on Fatherly is independently selected by our editors, writers, and experts. If you click a link on our site and buy something, we may earn an affiliate commission.
This article was originally published on