The Best Sparklers For Fourth of July, According to A Sparkler Expert
Sure, you can celebrate America without fireworks, but what fun is that?
by Hudson Lindenberger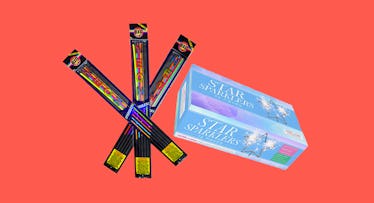 A feast of grilled meats is good. Cold brews are refreshing. But what really makes the Fourth of July special is the fireworks ⏤ both in the sky and in the driveway. Still, no responsible parent is going to hand kids a lighter and box of M-80s and send them on their way, no matter how much they love America.
That's where sparklers come in. While not completely safe ⏤ they still cause plenty of burn injuries every year, so be careful ⏤ they are safer than most store-bought fireworks. (There's a reason parents, children, and drunken uncles wave them wildly at weddings.) And not only do kids get to whoop with joy as they shower sparks from their hands, but you don't have to worry about anybody blowing their fingers off.
Before you start handing out silver sticks of fun to children, however, you still need to take safety into consideration. And the first place to start is by buying the safest sparklers on the market. That's why Fatherly reached out to Patricia Zutman of All Four Seasons Events for tips on what to look for when purchasing sparklers, as well as for her favorites. According to Zutman, you should look for sparklers that use metal wiring (so they don't burn as hot), emit as little smoke as possible (for better pictures), and have a longer burn time. "The metal handles ensure that your hands won't get burned while waving them," Zutman says, "And since they're smokeless you won't inhale excess smoke."
While there are plenty of online vendors that sell sparklers, she adds, use only those with the highest ratings. Most importantly, though, make sure that sparklers are legal in your state, never let kids play with them unattended, and don't forget to go over safety basics ⏤ i.e. don't touch the damn fire ⏤ before handing a lit sparkler over to a child.
Basic Wedding Sparklers
Ideal for younger kids, these 10-inch wedding sparklers are quick burning, emit gold sparks, and produce minimal smoke. Just make sure to buy a lot of them, says Zutman, as they only last 35 to 40 seconds.
Neon Sparklers
"Colored sparklers are just fun," says Zutman. This assorted pack includes blue, white, green, yellow, and red, and each 18-inch sparklers burns around 90 seconds. Due to the color pigments, however, they aren't smokeless and not great for photos.
Gold Sparks
These smokeless gold sparklers burn for almost two full minutes. "The 20-inch sparkler is by far the most popular size we work with," says Zutman. "It's long enough to allow plenty of time for you to capture that "perfect" picture of your celebration."
Long-Lasting Sparklers
If the kids are older and you don't want to deal with lighting new sparklers every other minute, go big ⏤ as in 3-feet long. These 36-inchers burn for almost four minutes and are perfect if you want to spend "more time focused on enjoying yourself," says Zutman. They're also low smoke, emit a silver spark, and are easy to light. A sparkler trifecta.
Star Sparklers
"Another great patriotic option for the 4th of July is the star-shaped sparkler," says Zutman. These specialty sparklers burn from the top, following the shape of the star, down both sides. They burn gold sparks and last roughly 55 seconds. Best part, they're sold 72 per pack so you won't run out before the party really gets started.
Every product on Fatherly is independently selected by our editors, writers, and experts. If you click a link on our site and buy something, we may earn an affiliate commission.