The Best Smartwatches Money Can Buy Are All On Sale For The Holidays
Yes, the Apple watch is, too.
by Jon Gugala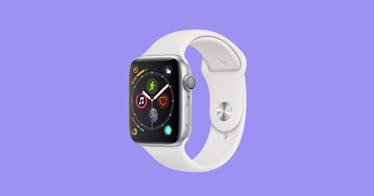 Like you, we're leery of the heavily hyped smartwatches from Apple, Samsung, Garmin, or Fitbit as just another way to tether us to emails, alerts, messages, and relentless news cycles. But the thing is, a great smartwatch does so many things that it quickly becomes an indispensable part of your life. It tracks your workouts. It's a heart rate monitor. It lets you check email, call your spouse, and alert you to meetings, how and when you want. The best smartwatches keep you connected while freeing you up to go about your life without being surgically attached to your phone. They even remind you to just … breathe. Thanks to Cyber Week deals, all the best smartwatches are now on sale.
Garmin Smartwatch Deals
Ideal for the reluctant exerciser, this Garmin smartwatch tracks your energy levels, respiration, menstrual cycle, stress, sleep, estimated heart, and hydration. Meaning, it's perfect for the holidays, when all those things can go awry. And because you can see actual workouts on the screen, you really don't have an excuse to not do yoga or pilates at home.
An all-around great watch, Garmin's fēnix 5 Plus has built-in mapping and navigation features to help keep you oriented. Plus you get full-color TOPO mapping with map data optimized for at-a-glance navigation and location tracking; the watch also helps you find the best routes for runs, hikes, or bike rides.
For the dad who's into long hilly runs or triathlons, you get full-color maps to guide you, so you never get lost during your trail runs. The Forerunner has no-joke fitness monitoring features including VO2 max and training status with adjustments for heat, altitude acclimation status, training load focus, recovery time, and aerobic and anaerobic training effects.
The Vivoactive 3 lets you pay for purchases using the watch. It comes with 15 preloaded GPS and indoor sports apps, including yoga, snowboarding, running, and swimming. It lets you easily monitor your fitness level with VO2 max and fitness age estimates. And it helps you manage stress, a feature all of us can appreciate.
Samsung Smartwatch Deals
What we love about Samsung's smartwatch is its pace coaching feature, which help you achieve your fitness goals and stay on track. A great buy for 2020, for sure. Plus, you get an alert if the watch detects a high or a low heart rate.
So no, you're not gonna hike the Appalachian Trail in 2020. You just want to tweak your lifestyle to make healthier choices and maybe take the stairs once in a while. Then get this easy-to-use watch. It's swimproof, and lets you track your activity with heart rate and GPS mapping.
Fitbit Deals
The Fitbit Versa 2 is a great buy because it has Alexa built-in. It's got a gorgeous user interface, sleep tracking, and a top-tier heart rate monitor. You can track heart rate 24/ 7, steps, distance, calories burned, hourly activity, active minutes and floors climbed.
Nowhere near as fancy as the Versa 2, this Fitbit is great if you stick to a few types of workouts. Which honestly, we pretty much all do. It has 15 exercise modes and lets you track your all day activity, 24/7 heart rate, and sleep stages with a four day battery life. This Fitbit has a lightweight, anodized aluminum watch body that is water resistant to 50 meters.
Apple Watch Deals
The newest Apple Watch tracks your heart rate, so you know when it goes up. Handy for those agitated Christmas dinners when elections come up. Plus, this model has a 64-bit dual-core processor, a barometric altimeter, second gen optical heart sensor, electrical heart sensor, and an ambient light sensor. It has up to 18 hours of battery life. And it has a fall detector, if your stress levels make you pass out.
We bring you yet another unbelievable deal on the Apple Watch Series 4, the GPS and cellular model. It has electrical and optical heart sensors, and ECG app, a digital Crown with haptic feedback, and a speaker that's 50 percent louder.
Every product on Fatherly is independently selected by our editors, writers, and experts. If you click a link on our site and buy something, we may earn an affiliate commission.
This article was originally published on