The Best Smart Thermostats for Reducing Your Utility Bills
Because sweaters, space heaters, and good insulation only go so far.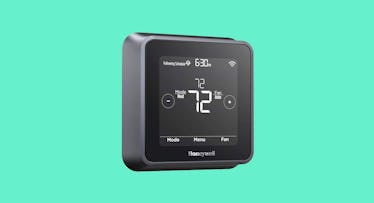 The thought of little ones shivering in their cribs or waking up in a pool of sweat can make even the stingiest of parents crank the thermostat. The problem, of course, is that when your utility bill arrives at the end of the month, there's no discount for energy used as a protective parent. There's just a number, one that can be big enough to cramp your financial style and keep you from saving for college (or buying something awesome).
One way to reduce your utility bills while keeping your home comfortable is to install a smart thermostat. With the help of an array of technologies, from smart home integration to GPS to artificial intelligence, smart thermostats heat and cool homes more efficiently. Companies ranging from century-old air-conditioning manufacturers to Silicon Valley startups have gotten into the smart thermostat market, so it can be hard to sort through the options to find one that suits your family's needs and is compatible with your home's cooling and heating systems.
To help you make an informed decision, we surveyed the smart thermometers that are on the market and picked some of our favorites. We only considered smart thermostat models that had consistently positive reviews from customers, and we included devices with very different feature sets to give you an idea of what's out there. All of our picks have wifi connectivity and compatibility with at least one of the nascent smart home ecosystems (Amazon Alexa, Google Home, Apple HomeKit). They all gather information about your routine and make automatic adjustments based on that information, and, importantly, they all might make you eligible for rebates from your local utility companies.
Works With: Amazon Alexa/Echo, Google Home
The Nest Labs Learning Thermostat debuted in 2011. It was an immediate game-changer, one of the first widely available smart home devices and one that demonstrated the potential of adding technology to our homes. Now in its third generation, it only takes the Nest a couple of days to learn your schedule. It remembers the temperatures as you set them and knows, based on how often the motion sensor on the front of the thermostat is activated, when you're home. Eventually, it automatically adjusts the temperature based on your comings and goings, a system the company claims "saved people an average of 10% to 12% on heating bills and 15% on cooling bills." The leaf that appears on the display and in the app lets you know that your current settings are energy efficient, and so can help you save even more money. One of the Nest's only downsides is that it doesn't work with Apple HomeKit, possibly because Nest was acquired by Google in 2014.
Works With: Amazon Alexa/Echo, Google Home, Apple HomeKit
The Mysa is a smart thermostat specifically designed to control the electric heating system in your home. By equipping different areas of your home with multiple Mysa thermostat units, you can create zones that are independently controlled, so you're not heating rooms that aren't being used. If your kids spend most of their time during the afternoon and evening in the playroom, that room will be heated but their bedroom will not. As bedtime approaches, Mysa will heat the bedroom and turn off the heat in the playroom. The Mysa app also lets you make adjustments to each zone, so you don't have to turn the heat up for the whole house if only one room gets drafty. This system is great for large homes that have baseboard heaters, but it can require a little extra electrical work and the purchase of multiple units (there are discounts for buying in bulk). If you're considering a Mysa system, make sure you verify compatibility with your system first.
Works With: Amazon Alexa (built-in), Google Home, Apple HomeKit
Instead of relying on a learning algorithm like the Nest, the Ecobee uses sensors placed throughout the house to detect real-time differences in rooms — in terms of which are being used and which are naturally warmer or cooler — and adjust the temperature accordingly. The Ecobee's sensors give it a more nuanced view of your home that lets it make smarter decisions about when and where to use energy. And instead of relying on an external speaker for voice control, the Ecobee4 has Amazon Alexa built right in, though it's also compatible with Google Home and Apple HomeKit, if you want to integrate it into an existing smart home ecosystem built around one of those technologies.
Works With: Amazon Alexa/Echo, Google Home, Apple HomeKit
Installing the Connected by Honeywell app on your phone means you can link up with the T5+ and do the standard system adjustments from there. But the coolest feature of the app is geofencing. By enabling location services, you can allow your phone to share your location with the T5+. If you leave your house, it quickly knows and can turn off your system. As you approach on your way back, it can switch things on to make things nice and comfortable when you arrive. The app also tracks your air filter schedule and lets you know when they need replacing — a simple fix that can knock lots of cash off of your energy bills, as dirty filters make for a less efficient system.
Works With: Amazon Alexa/Echo, Google Home
The Hive active thermostat might not be as feature-rich as some of the other models, but it does a nice job and looks great doing it. In addition to setting daily schedules and special rules for when you're on vacation, what's nice about Hive is that you can buy it as part of different bundles that include smart home devices like light bulbs, smart plugs, security sensors, cameras, and smart hubs. If you're starting a smart home from scratch and want an easy way to add a lot of devices to your network, Hive packs are an excellent choice.
Every product on Fatherly is independently selected by our editors, writers, and experts. If you click a link on our site and buy something, we may earn an affiliate commission.
This article was originally published on