The Best Tech Gifts for Dad This Father's Day
These tech gifts may not be on your dad's Father's Day wishlist yet – but it's only a matter of time.
by Liz Newman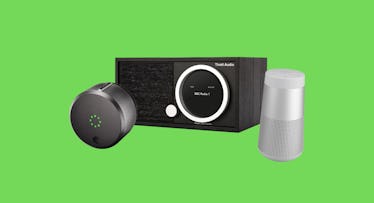 Here's the catch-22 with dads: their easy-going "whatever you want to get me is fine" nature while sincere, is intensely frustrating when it comes to purchasing a Father's Day gift. But regardless of whether or not that described your dad ⏤ and odds are it probably did ⏤ snagging the right tech gift for the man who made you a man can be inarguably tough.
RELATED: These Animated E-Cards Are the Perfect Father's Day GIF-ts
Because, sure, being a dad "is the gift that keeps on giving" and whatever ⏤ but real gifts are pretty damn nice, too. And since almost all dads who exist on the planet are into cool, high-tech gadgets, why not pick out something he can show off (and proves he totally understands) to his buddies? From a gesture-controlled drone to a digital guitar that lays down tasty licks, these are the best tech gifts for Father's Day that'll speak to any tech-lovers out there.
DJI Spark Drone
This is a drone blah blah blah you can control it by waving your hands around like a wizard. That's right, this palm-sized drone backs a gesture based system that lets you command its flight path by simply moving your hands around (it can also be controlled via smartphone). The little tech gift also packs a front mounted HD camera, 16-minute flight time, and top speed of 31 mph. And in case a bee comes and makes you wave wildly, fear not: the Spark Mini has obstacle avoidance.
Wacom Bamboo Folio Notepad
Have an endless list of doodles and million-dollar ideas? This digital notepad brings them all to life with the touch of a button. Bamboo Folio transforms jotted, hand-written chicken scratch into "living" digital files. Once the app is downloaded, they can be synced to the cloud to be accessed anywhere ⏤ as well as easily edited and shared. It's the perfect tech gift for Father's Day.
Carved Wood Phone Case
As sleek as its tempered Gorilla glass and aluminum body may be, an iPhone must be protected to live a long, crack-free life. This polycarbonate and wood case is a worthy tech gift for Father's Day. It defends against drops, daily scratches, and the blandness of other cases: the hand carved inlay of Colorado's Mount Bierstadt offers a scenic backdrop. Plus, whole thing is light enough not to weigh down any of Dad's many pockets.
Tivoli Model ONE Digital
Offering modern sound and streaming abilities with the throwback simplicity of a transistor radio, the Model ONE Digital fits in everywhere from bedroom wardrobes to basement workbenches. A new addition to Tivoli's long line of radios, the ONE plays tunes from Spotfiy, Tidal, and your home library as well as FM radio and connected Bluetooth devices. Available in Walnut, White, and Black wood, the speaker can be used on its own or connected wirelessly to other speakers for a full home experience.
Lifx Color 1000 Bulbs
Who doesn't want god-like control of their lighting, especially when the kids keep leaving them on? With this smart lightbulb screwed into any standard fixture, masters of their domain can not only use an app to switch LEDs on and off from the comfort of the couch, but they can also freak family members out (or set the mood) by changing the bulb's hue to one of 16 million colors. What better tech gift for Father's Day?
August Smart Lock
Fitted to your front door, this Bluetooth-enabled smart lock lets you grant or restrict access to anyone who comes knocking. enter. A few swipes of the smartphone app unlock the door (you can even have Siri do it for you if she doesn't sass you too much about it) and you can do so whether you're at work or too lazy to get off the couch. Hell, you can even give visitors like, say, the plumber, a preferred access code and the door will unlock for them when they arrive. As if that's not enough, the latest version also updated version also comes complete with a Doorbell Cam that lets you see visitors from your screen.
The Artiphon Instrument 1
This digital instrument offers the thrill of being in a band — and none of the skin-hugging pleather reminders of physiques past. Switching seamlessly through more than 20 string tunings, the Artiphon lets players bust out riffs on everything from electric guitars to banjos to violins without needing to restring – or buy separate instruments. The touch-sensitive tech gift offers a feeling nearly identical to the real thing and players can also compose songs. And since it connects directly to your smartphone, tablet, or computer, all those tasty, tasty licks can be laid down on Garage Band or similar program.
Nest Cam Indoor
The Nest Cam is next-level, internet-based monitoring. While technically a general security camera, its reliability and video quality make it a top choice baby monitor. For $10 a month, the 130-degree camera will stream images directly to your phone, sending alerts and taking snapshots if there's anything suspicious going on — or if the dog starts making love to the couch again. If someone else watched your house this closely, it would be scary.
Bose SoundLink Revolve
This cylindrical speaker may look dainty, but it's not afraid of taking a hit: it's designed to withstand both drops from cliffs (thanks to integrated bumpers) and clouds (it's IPX4-rated splash resistant). Sound-wise, its 360-degree build ensures everybody can hear the crisp highs and satisfying thump and does justice to everything from the Beatles to Big Boi. It lasts 12 hours on a charge, and can also access Google Now and Siri at the touch of a button, so you can easily queue up the tunes with or without a phone nearby.
Sennheisser Flex 5000
The Flex lets listeners enjoy late night Netflix sessions without the need to put the TV down to whisper-low volumes. The Flex consists of a digital tuner and a wired receiver. Plug any wired headphones into the receiver and it transforms them into wireless wonders tuned for high-fidelity TV, music, or movie listening. The system has three listening profiles to choose from as well as a function that reduces background noise for better viewing. What better tech gift to get dad for Father's Day?