The Best Sleep-Training Clocks to Teach Your Toddler to Stay in Bed
Like traffic lights, these sleep-training clocks use colors to let kids know it's okay to get up and at 'em.
by Dave Baldwin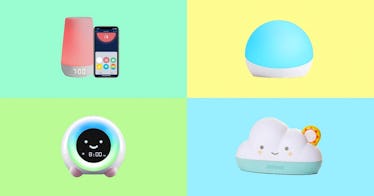 Every parent can struggle in establishing a sleep routine for his child, but the best sleep-training clocks can make this seemingly Sisyphean task easier. These kids' alarm clocks or OK to wake clocks provide a reassuring nightlight that helps toddlers fall asleep faster and sleep deeper. The next morning, its familiar glow helps keep them in bed until a reasonable hour, which, to a REM-deprived parent, is an inestimable benefit worth just about any price (but trust us, they're not that expensive relative to their reward).
When selecting a sleep-training clock, pick one that's child-friendly, cute, and easy to read (translation: the numbers are big and bright). Colors that signify when it's time to go to bed and time to wake up are also must-have features. Some of our favorites allow you to set specific alarms for specific days depending on your or your child's schedule. Some of these sleep-training clocks are fancier than others; the top-tier ones connect to your phones via corresponding apps, so you can track bedtimes and even tell your kids it's time to put away the Legos.
The simpler clocks on this list are ideal for toddlers, while the more complex ones are designed to grow with your child.
The Best OK-to-Wake Clocks
The Best Kids' Alarm Clocks
Every product on Fatherly is independently selected by our editors, writers, and experts. If you click a link on our site and buy something, we may earn an affiliate commission.