The $7 Sleep Spray That Finally Helped Me Get Some Rest
I struggled with sleep issues for years. Finally, I found relief in a routine made possible not by an eye mask or new sheets but a $7 pillow spray
by Nicholas Kavalier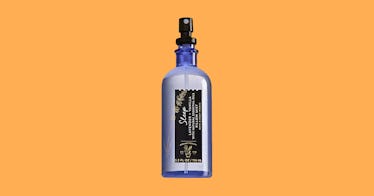 Sleep spray is one solution to sleep deprivation, a real problem for millions of Americans. According to the National Sleep Foundation, 45 percent of Americans say that poor or insufficient sleep affected their daily activities at least once in the past seven days.
I was one of them. I had difficulty sleeping for years. I tossed. I turned. I stared at the pulsing digital clock in my bedroom as the seconds ticked by. In my quest to score some decent shuteye, I tried everything from sleep masks to melatonin to tea to marijuana. The best solution I found? Spritzing my bedding with a deep sleep pillow spray.
I'll admit it: it sounds weird. But, I've always had a thing for scents. Colognes. Incense sticks. Play-Doh. So, why not a spray before bed? Turns out, the right aroma has been proven to create a physiological response that conjures sleep and relaxation hormones. Does it work for everyone? No, but it works for me and it might work for some. I've been using my sleep spray for a few years now and my sleep has vastly improved. It relaxes me and makes it easier to drift off. And, as sleep is based on a good routine, the scents also help me nab solid shuteye when I'm on the road. A few sprays on a hotel bed, often a difficult place for me to get solid sack time, helps create the environment I'm used to. Want to give it a try? Here are a few I use. At the very least, your bedroom will smell nicer while you try to fall asleep.
Who knew something from Bath and Body Works would help my sleep issues? This is the first spray I ever tried, and one I continue to use. The scent, a lavender sleep spray with vanilla, is fresh without being overpowering, relaxing without ever making your bedroom smell like the perfume section at Nordstrom's.
By the name, you can tell the company is pretty damn confident in their product. The scent is similar to the Bath and Body Works version but is a bit more cologne-y. In a good way. The mix of chamomile, lavender, and vetiver is a bit more layered.
This scent from the famed french bath product company, features notes of lavender, bergamot, mandarin, sweet orange, and geranium scents for a more floral-forward scent. Spraying it before bed makes it seem like I'm falling asleep in the Shire or some similar fantastical location. Nerdy? Sure. But it's calming as hell.
This sleep spray both relaxes you and boosts your mood. Spray it around your room, and on your pillow, let it settle, and then settle in for what we hope is some great rest.
Every product on Fatherly is independently selected by our editors, writers, and experts. If you click a link on our site and buy something, we may earn an affiliate commission.
This article was originally published on