The Best Kids Snow, Snowboard, and Ski Gear
Want your child to love the slopes as much as you do? Start with the right gear.
by Berne Broudy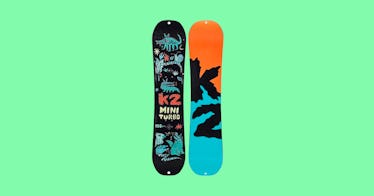 Are you hoping to raise the next Lindsey Vonn or Shaun White? Then it starts with the best kids snow gear. Toddlers don't just huck their first tamedog on a day-one rental. Nope, before they're shredding the gnar, it's hours spent on properly fitting toddler snowboards and skis first, where they learn edge control. Of course, in order to have them focused on their edges, they need to be comfortable, and that's where right-sized and warming kids' gloves and helmets come in. Sure, you may have taken your first laps in denim, but if you truly care about passing your love of snowsports on to the next generation, you're going to need to up your game with the right kids ski gear.
Beginner skis and boards should be soft and short, which translates to ease of turning and control. Ski boots should go on and off without struggle as should ski gloves, mitts/gloves, and other apparel. But most important is the helmet itself, which, when properly fitted, protects your kiddo's noggin from the all-but-guaranteed smacks against the packed snow of the bunny hill. Finally, keep an eye out for snow gear including ski apparel that grows with your child — your wallet will thank you next year.
Skis, Snowboards, and Snowsport Gear for Little Kids
Skis, Snowboards, and Snowsport Gear for Bigger Kids
Every product on Fatherly is independently selected by our editors, writers, and experts. If you click a link on our site and buy something, we may earn an affiliate commission.