5 Great Single Malt Scotches for Less Than $40
Single Malt Scotch is fancy — but it doesn't always have to be costly.
by Nicholas McClelland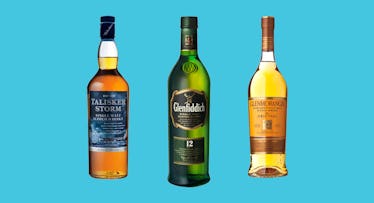 The whole world, it seems, is drunk on whisky and willing to pay for it. With the explosion in demand, prices have crept ever higher and value buys are harder and harder to find. Across all styles, the outlay for a bottle of brown stuff is frankly getting a bit hard to swallow — and this is doubly so for single malt Scotches. Fine and rare whisky from Scotland has long been synonymous with luxury, and never been "cheap," but there were always reasonable options for those in the know.
While low-cost offerings are a bit diminished these days, there are a few bottles to be found that won't require a second mortgage. To that end, here are five excellent single malts you can snag for less than $40.
Glenmorangie The Original
Made in Scotland's tallest stills and aged 10 years in air-dried, white oak from the Ozarks, Glenmorangie Original is a deeply satisfying Highland whisky. Fruity, malty, and just plain delicious, it's a dram that punches way above it's price point.
Laphroaig Select
It's hard to find an Islay under $40, so Laphroaig Select is a bit of a steal. While the medicinal flavors you find in the Select are a bit more subdued than in the original, caramel and vanilla balance nicely with Laphroaig's signature smokey iodine notes.
Aberfeldy 12
A major component in the blended juggernaut known as Dewars White Label, Aberfeldy 12 is a lovely whisky that stands brilliantly on its own. A dozen years in ex-bourbon wood gives the spirit a wonderfully thick mouthfeel while flavors of sweet honey, citrus and heather make Aberfeldy 12 a solid go-to evening dram.
Talisker Storm
Some connoisseurs obsess over age statements but it's really nothing but a number. The important thing is flavor and the no age statement Talisker Storm is a delicious whisky. An impressive amount of smoke and salt are balanced out by a caramel sweetness and spice that gets deeper with every dram. At this price, we'd buy it by the case.
Glenfiddich 12
Sure this one might seem a bit obvious, but there is a 50/50 shot this was the first single malt you ever had and with good reason. It's the best selling single malt in the world, a classic and you can still get it at a reasonable price. Notes of orchard fruit, vanilla and cinnamon make this soft, supple whisky a great daily drinker.