The Best Single Malt Irish Whiskey to Drink This Saint Patrick's Day
This season, forgo the blended stuff for one of the Emerald Isle's excellent single malts.
by Nicholas McClelland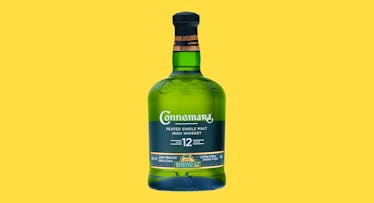 St. Patrick's Day is nearly upon us and so is the flavorless onslaught of cheap, green beer dully visible through red solo cups. Midwestern brewed pilsner paired with a few drops of food coloring seems a poor way to celebrate the Irish. We prefer to toast old St. Pat with uisce beatha, also known as whiskey.
There is no shortage of good Irish whiskey. But while most are familiar with the traditional, big name blended varieties like Jameson and Bushmills, few are familiar with the Emerald Isle's fantastic single malts. That's a shame because single malts are much more flavorful and there are numerous stellar bottles worth sipping. Take this as an opportunity to celebrate some Irish single malts and try one of these five excellent options.
Dingle Batch No. 3
Out on the island's west coast, independent maker Dingle only started producing spirits a few short years ago in 2012. Their Batch No. 3 can be a little hard to find but its worth the search. Aged in ex-bourbon and port barrels, it's is a sweet sipper with elegant notes of honey, berries, citrus, and wood.
Connemara 12
Peated whiskey is a rarity on the emerald isle. In fact, there is only one Irish peated single malt on the market. But if you enjoy a healthy dose of smoke in your dram you're going to love Connemara 12. Nutty and peppery, notes of vanilla, grass, honey, and wood play off the smoke and a lingering brine to create a lovely mouthful.
West Cork 10
Fruity and rich, West Cork's ten-year-old single malt is an easy sipper and even easier on the wallet. Delicious with notes of apples, sugar and toffee with a hint of pepper, it's an approachable and satisfying for whiskey lovers of all stripes.
Knappogue Castle 14 Year Old Twin Wood
A fusion of two 14-year-old single malts, one aged in ex-bourbon barrels, the other in Oloroso sherry, the result is a rich and tasty dram. Honey, coconut, and fruit notes play off a subtle touch of oak.
Tyrconnell 10 Madeira Cask
Made from the mountain-fed waters of the Slieve na gCloc river, this ten-year-old malt gets a finish in Madeira wine barrels from the Portuguese islands. Light in the mouth, cocoa and honey play off oak, cinnamon and salt.