The Best Sidewalk Chalk and Chalk Accessories For Kids
All the stuff your kids need to chalk that walk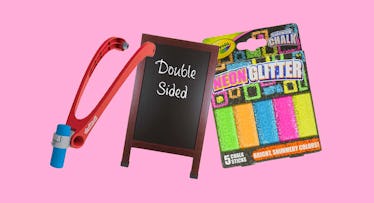 Sidewalk chalking is a true-tested summer pastime. What kid doesn't get a kick out of doodling on the driveway or drawing a massive tic-tac-toe or four-square board with a big fat piece of chalk? (Admit it, you still pick up a stick and draw the Stussy "S" next to whatever your kid is sketching on your pavement.) If your kids love to chalk that walk, then there's much more out there than a standard stick. We're talking everything from spray paint chalk and funky chalk-holding rakes to glittery chalk and best of all dustless chalk that doesn't leave your kids' hands messy. Bonus: They're all water-based, so you can wash them right off. Without further ado, here are the best sidewalk chalk and sidewalk chalk accessories for kids.
Regal Games 100 Piece Jumbo Sidewalk Chalk Set
If your kids like to chalk some walk, then you need a large quantity of chalk. This massive tub of 100 huge coloring sticks has you covered. It includes 100 options (10 chalks in 10 bold colors) all packaged in corrugated cushions that prevent them from snapping. Even better: the sticks' conical shapes keep them from rolling away down sewer grates where dancing clowns may be lurking.
Crayola Outdoor Spiral Chalk Kit
Remember Spirograph? This kit is that, but with chalk. Kids can use one of the six stencil shapes to design everything from diamonds to dodecahedrons, then wash them off and start again.
40 Piece Donut Chalk & Paint Set
Honestly, the world needs more "donut-shaped" stuff. This 40-Piece Donut Chalk Set is a good start. Choose from the eponymous donut-shaped pieces (styled in traditional rings, and eclairs), use the basic chalk sticks, or mix up some specialized "chalk paint" and create something delicious.
Sandwich Board Chalk Sign
Whether your kids are promoting a growing lemonade business, a yard sale featuring all the terrible neckties they've gotten you, or you just want to tell birthday guests "The Party's Here!", this Heavy Duty Sandwich Board Chalk Sign is a nice addition. It comes with 10 chalk markers, 40 stencils, measures 40" x 23", and is made from high-quality handcrafted pine and reinforced steel brackets.
Crayola Neon Glitter Sidewalk Chalk
This neon glitter chalk set has chalk with neon and glitter. So, yeah, your kids will dig it. There are five fluorescent colors, all of which rub off with tiny, light-catching sparkles that are perfect for adding a pop to summer sun rays.
Testors Spray Chalk
This set of aerosol cans spray washable, non-toxic chalk mist you can use to tag everything from blacktop to brick walls. There are four colors — pink, blue, yellow, and white — which look like standard chalk when sprayed and can be erased with a quick spray of the hose.
Chalkscapes Chalk Rollers
When your kids want to draw fatter lines without spending time — and working an entire stick of standard chalk down to its nub — bust out these nifty rollers. Equipped with a roller sponge on top, they come in six colors, and activate with just a few drops of water.
Urban Infant Chunky Chalk
The five chalk sticks that make up the Urban Infant Chunky Chalk set are stubby for a reason: they're easier for smaller hands to grasp. Even better? The fattened chalks, which sort of look like squished versions of the Chrysler Building, are made of all-natural, non-toxic materials and dyes so that if kids mistake them for delicious ice cream pops (a natural mistake) and give 'em a lick, they'll be fine. Also included: a manual featuring several different hopscotch variations from around the world. Art is culture, after all.
Crayola Chalk Rainbow Rake
If Freddie Krueger decided to shed his dream-haunting persona and get into art, we believe this is the tool he'd wield. Kids can load up each of the holders with a different, standard-sized chalk stick and create large-scale designs in seconds. It's the perfect tool for the chalkster with no time to waste. (Plus, it makes "raking" fun, which will come in super handy when fall hits.)
ChalkTrail
The ChalkTrail could be mistaken for some sort of medieval torture device. But, rather, it's a bike attachment that lets peddlers draw as they ride. Insert a stick of chalk into the specialized holder, and a kid's ride will be charted by the streak it leaves behind. They can make the sidewalk chalk equivalent of crop circles, or just mark their entire journey so they can take the same route next time (or you can keep tabs on them). Note: any swerves in the ride were probably swerves to avoid dog poo.
Dustless Fluorescent Chalk
Tired of your kid marking you with their chalk hands when they're done doing their blacktop drawings? This sixer of Dustless Fluorescent Chalk is specially coated to keep hands clean. Touted as the "most popular chalk in Japan since 1937" — which, by the by, means it's survived one World War, two emperors, and all 60 minutes of the Roseanne reboot — it's made from eco-friendly calcium carbonate and scallop shells. It also lasts twice as long as the more common gypsum chalk. Plus, as it's fluorescent, it gives you a great excuse to break out your black lights from college.
Every product on Fatherly is independently selected by our editors, writers, and experts. If you click a link on our site and buy something, we may earn an affiliate commission.