The Best Scooters for Kids to Shred, Flip, and Grind
There's a great option for every age and skill level.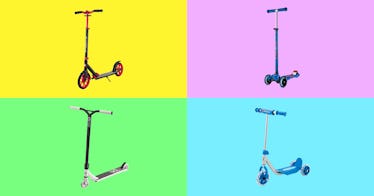 It's fairly obvious, if you've ever been outdoors, that kids love scooters. All those shiny fold-up kids' scooters are not only fun and (relatively) simple to control but they also sharpen hand-eye coordination and balance while keeping children active. The best scooters for kids give them a sense of freedom, while also boosting their confidence and helping them develop their motor skills.
When scooter-shopping, look for one that can grow with your child, that's solidly-built, that has a stable ride, and is easy to set up and operate. Having one that folds up is a bonus.
And don't neglect the noggin. According to the American Academy of Pediatrics, helmets are the best way to prevent serious head injuries when riding scooters, so be sure your kid wears one. And if you get an electric scooter, per the AAP, only kids older than 16 should ride one.
As there are almost as many makes and models of scooters as there are boxes of cereals, we narrowed down the playing field to our favorites. They're safe, fun, and well equipped. Take a look.
The Best Scooter for Toddlers
The Best Kids' Scooters
Every product on Fatherly is independently selected by our editors, writers, and experts. If you click a link on our site and buy something, we may earn an affiliate commission.
This article was originally published on