Today's Best Sales: Fingerlings, Paw Patrol Toys, and HatchiBabies
Do your kids a favor by picking up some great toys for them. Do yourself a favor by doing it early (and on sale).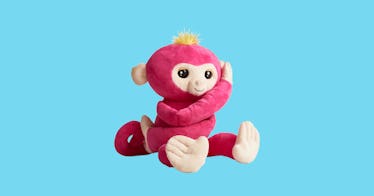 Every day, the Internet is teeming with deals, sales, discounts, and savings. But, as the Internet is a big, distracting place, said deals can be difficult to find. Plus, you don't have time to sniff 'em all out. You have work and kids and a total of 25 minutes of free time that shouldn't be spent looking for discounts. So, to help you out, we'll be combing through the daily offerings and rounding up the deals we like, and think you might find useful. Today, we found deals on some of our favorite toys: Fingerlings HUGS, the Cool Maker KumiKreator Friendship Bracelet Maker, HatchiBabies, and a Paw Patrol Lookout Tower playset. Don't miss your chance to pick them up early and on sale.
Fingerlings Hugs
Original Fingerlings were a massive holiday hit last year, so the smart money says that Fingerlings that are bigger, softer, and smarter will be even more popular this year. Like their progenitors, Hugs react to sound, motion, and touch. The foot-and-a-half long stuffed animals yell "wheeee" when they're tossed, fart, giggle, and repeat what kids say when the button in their right ear is held down. They're also soft and cuddly, and the velcro on their hands means your kid can walk around constantly being hugged. Save $5 when you pick up Bella, the pink version, at Walmart today.
Paw Patrol My Size Lookout Tower
Even if you don't understand the appeal of Paw Patrol, odds are that your kid is a big fan of the Canadian canines constantly invading your TV. If that's the case, this nearly three foot tall tower would make a great gift that might have the benefit of getting your kid away from the actual show and its interminable theme song for a few minutes. Luckily for you, Amazon has this light-up and sound-equipped toy on sale for $24 off the list price today.
HatchiBabies
Like Fingerling Hugs, HatchiBabies are a follow-up to a hugely successful toy from a holiday season past. After some rubbing and rocking of an egg, your kid's Hatchibaby will break through the shell, revealing its brightly colored fur, multicolored light-up eyes, and diaper (it is a baby after all). Kids can interact with the toy in a bunch of different ways, from rocking it to sleep to "feeding" it with an included bottle to brushing its hair, all of which elicit different cute reactions. You can make your kids HatchiParents for $6 less than usual today, and given the high prices original Hatchimals fetched on the resale market, you might end up saving even more by avoiding a last minute purchase.
Cool Maker KumiKreator Friendship Bracelet Maker Kit
One of the most clever toys of the year is this contraption that lets kids design and create Japanese "gathered threads"-style friendship bracelets easily. Kids simply tie the threads they want to the pegs and turn the wheel, which ties them all together into one multicolored bracelet. There are enough included threads for them to make a bunch to share with friends, and designs that make specific color patterns easy to replicate. Save $5 on this 148-piece kit at Walmart today, and don't be surprised if you get a bracelet in appreciation yourself.
This article was originally published on