5 Rye Whiskies to Sip This Summer
Bourbon's spicier, drier sibling is having a major moment.
by Nicholas McClelland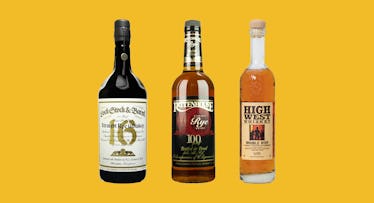 What's old is new again. So it is with rye whiskey. In the 17-and-1800s, Bourbon's spicier, dryer sibling was once the pre-eminent whiskey on this continent. But after prohibition, American's taste for the stuff waned. Thankfully for the whiskey drinkers of today, times have changed. Our golden age of whiskey has turned back the clock and rye is resurgent. Whiskey, drinkers of all stripes cant seem to get enough of the brown stuff and as their pallets are becoming increasingly adventurous, rye's spice is becoming more and more a called shot. Not only is it great on the rocks but, rye is killer in a summer cocktail. Whether you like your whiskey neat, on the rocks or in a mixed drink, here are five rye whiskeys to try.
Knob Creek Cask Strength Rye
New for this year, Knob Creek Cask Strength Rye was recently named the best in class at the San Fransisco World Spirits Competition. Bottled at 119.6 proof, Knob Creek Cask Strength Rye is quite capable of kicking you in the teeth if you're not careful, but all that undiluted flavor will also waltz beautifully along your tastebuds. It's a thick, rich mouthful with spicy, peppery notes playing off a deeply satisfying caramel sweetness.
Best Enjoyed: With a couple of cubes.
Willet Family Estate Single Barrel Rye
Well-balanced and richly complex, Willet rye never fails to impress. It's peppery spice is enhanced with deep rich dark fruit flavors. It can be a bit tough to find, so if you come across it a retail, stock up… and give us a shout, so we can replenish our bar.
Best Enjoyed: In a Manhattan. While great on the rocks, the Willet's thick, cherry richness can elevate an ordinary Manhattan to the level of craft cocktail.
Rittenhouse Rye Bottled in Bond
If you're totally unfamiliar with rye, Rittenhouse is the place to start. Long a bartender favorite, Rittenhouse is not quite a spicy as some but still has tons of flavors to discover, citrus, vanilla and chocolate to name a few. Bottled at 100 proof, Rittenhouse easily stands out in a substantially iced cocktail.
Best Enjoyed: You can sip this one, but where it really shines is in a cocktail like an Old Pal. At under $30, this is a great rye for experimenting.
High West Double Rye
For the last several years, High West has been concocting some of the tastiest and most creative blends on the market. But until recently, they weren't making their own spirit to formulate their creations. Finally the first batch from their new distillery is ready and High West has incorporated it into the latest release of their Double Rye. It's a spice-forward whiskey with notes of honey, mint a cinnamon.
Best Enjoyed: We love the Double Rye in cocktails. It makes a great Old Fashioned but if you're feeling a little more adventurous and up for pounding a few ice into pellets, try it in a rye mint julep.
Lock Stock and Barrel 16 Year Rye
Made from a mash of 100% rye, Lock Stock and Barrel 16 Year Rye is big, bold and intense. A glass of this rye is so chalked full of flavor, you can get lost in it's amber waves and before your know it you're three drinks deep. It's a pricey indulgence, but it's one of the best bottles you're likely to try, if you can find it.
Best Enjoyed: Sip it… Slowly.
Every product on Fatherly is independently selected by our editors, writers, and experts. If you click a link on our site and buy something, we may earn an affiliate commission.
This article was originally published on