The Best Running Equipment For Dad Joggers
From the all-terrain stroller to sunglasses that resist slipping down your sweaty face, these are the essentials for dads on the run.
by Jen See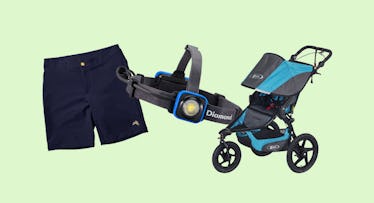 Running is a great way to stay in shape, especially for dads who hope to fight the spread of the dadbod. But making time for jogging and cardio can be tough. Motivation requires not only a positive attitude, but also the right running equipment. So with that, Fatherly recommends the following workout essentials for dads on the run — including a few for bringing the kid along for the ride.
Wiivv Custom-Fit Insoles
Digging through an endless succession of shoes to find the perfect pair can take more time than many of us have to spare, but running in ill-fitting running shoes is uncomfortable and can cause injury. Wiivv has a solution. With help from 3-D printing, the company uses photos of a runner's foot to make custom insoles. Download Wiivv's smartphone app and use it to take five photographs of your feet from different angles. A week later, a pair of insoles arrives at your house. After putting Wiivv in a pair of running shoes, dads may find that they're a welcome addition to street shoes, too.
Lululemon Metal Tech Vent Short-Sleeved Shirt
Running can be sweaty business, but a good shirt can help maintain a modicum of freshness. Lululemon's Metal Tech Vent shirt features a tailored — but not skin-tight — fit, and light, breathable material. A hint of Lycra helps the shirt hold its shape and Lululemon's Silverescent technology works to keep odor-causing bacteria in check. Lululemon has built a reputation on meticulous fabric sourcing and carefully designed fit, and the Metal Tech Vent complements the company's roster by transitioning easily from run to playdates.
Wahoo Tickr X Heart Rate Monitor
Keep yourself honest with Wahoo's Tickr X. The running equipment's chest-strap design captures both heart-rate and calorie data. Dads can use it with Wahoo's RunFit or 7 Minute Workout Apps, though it is compatible with most popular fitness apps and will pair with smartphones, GPS watches, and bike computers using either ANT+ or Bluetooth Smart technology. And for those who'd rather leave the phone at home, the Tickr X has built-in data storage.
Tracksmith Longfellow Running Shorts
With their Longfellow shorts, Tracksmith has packed technical performance into a stylish package that avoids the pitfalls of overly short hemlines and clingy materials. The Longfellow features Schoeller Dryskin fabric with four-way stretch. It's designed to move with a runner, while Coolmax fibers help keep skin dry. Plus, a rear pocket holds a phone and other small essentials. They'll keep dads looking stylish whether they're on a long run or doing the school pick-up. Available in eight colors.
Bob Revolution Pro Running Stroller
Designed for kids starting at age 8-weeks-old and up to 75 pounds, Bob's Revolution Pro allows dads to bring a kid along for a run. High-strength aluminum alloy builds in durability, drum brakes on the rear wheels maintain control, and the front wheel swivels for quick maneuvers. Additionally, the front wheels can be locked out, and an adjustable handle and three inches of suspension create a smoother ride. The Revolution Pro works well as a city stroller, too, and it folds up for storage and travel. Available in single or double sizes.
Stance Uncommon Solids
The Uncommon Solids crew is a lightweight, breathable sock that wraps a network of mesh vents around the top of the foot. An articulated footbed helps increase airflow and keep padding where it's most needed. The sock features 200 needle count stitching and reinforced heels and toes for durability. Plus each one is designed to provide arch support for a specific foot. That's right — there's a right sock and a left sock.
One Gore Active Run Jacket
The Active Run jacket features Gore's Shake Dry fabric, which has become a favorite among runners and other outdoor athletes. Designed for running, the jacket is both lightweight and packable. Gore constructs the jacket from two layers: a Gore-Tex membrane on the outside and an inner shell made from Polyamide. The minimalist construction makes the Active Run uniquely lightweight and breathable. A close-fitting hood keeps the raindrops from falling on a runners head while elastic at the waist ensures a close fit. The versatility of the Active Run means it can handle a daily run or get tossed in a pack for a hike or weekend camp-out.
Road ID Elite
Road ID offers a colorful and low-profile way to carry your emergency contact information with you. The running equipment bracelet features a surgical stainless steel plate, on which the company engraves your name and contact information, and a silicone band, which is available in 13 colorways. A stainless steel clasp keeps the band secure, and the company provides a subscription service if you want to store more complete medical or identification information in the cloud.
Black Diamond Sprinter Headlamp
It can be hard to fit everything into daylight hours. Sometimes, the only time to slide in a run is before sunrise or after sunset. The Black Diamond Sprinter headlamp offers visibility whether you're out on the road or hitting the trail. The Sprinter features a 200-lumen LED lamp that's rechargeable via USB port. There's also a red tail light for added visibility to drivers. The running equipment is lightweight and comfortable, and Black Diamond has designed it to withstand the demands of winter weather conditions.
Ciele Beanie
Ciele makes a variety of stylish running hats, but for regulars on dawn patrol, the company's beanie keeps the noggin warm and adds a dash of fun. Ciele builds their beanies from Italian merino for a soft, warm feel. The interior is a waffle-textured knit liner, designed to wick away sweat. Made in Montreal, Canada, these head protectors stand up to the coldest days you're likely to encounter.
Sanuk Vagabond Chill
There's nothing better than kicking back after a hard run with feet nestled in these comfy slip-ons from Sanuk—after all, recovery is an important part of any fitness plan. The Vagabond Chill features canvas uppers lined with soft faux shearling. A molded EVA footbed cushions feet from the hard world outside, and a rubber sponge outsole provides traction for chasing a kid around the neighborhood.
Roka Vendée Sunglasses
Flexibility is a necessity for life with kids, and running equipment that'll easily transition from workouts to hangouts is essential. Roka makes it easy with stylish shades that avoid slipping during a run. Roka uses nylon lenses from Carl Zeiss for scratch- and fog-resistant clarity, and GEKO pads on the nose and temples help ensure the sunglasses stay put even when things get seriously sweaty.
This article was originally published on