These 5 Rooftop Tents Are Basically Take-Anywhere Tree Houses
And they cost way less than a camper.
by Dave Baldwin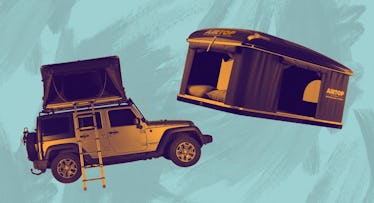 There are plenty of reasons to trade a traditional tent for a rooftop tent (RTT) that mounts on top of a car. They set up in seconds, often with just a pop of the latch. They get the family off the cold ground, and a warm family is a happy family ⏤ especially when camping in the woods and away from the creature comforts of home. Some even convert to cargo boxes, doubling their utility when your vacation plans don't involve sleeping in the great outdoors.
RELATED: The Best Family Camping Tents
But the biggest selling point of a rooftop tent, at least if you have kids, is that it's pretty much a portable tree fort. And, like hanging tree tents, they can elevate a kid's enthusiasm for camping to next level. Also, they offer the comforts of sleeping in a camper trailer at a fraction of the price.
ALSO: The Coolest Campers, RVs, and Rooftop Tents For Your Summer Adventures
Most rooftop tents cost between $1,500 and $3,000, although you can find them as low as $900. They're designed to mount on the average sedan, SUV, or crossover using a standard off-the-shelf roof rack system ⏤ just make sure to check your cars dynamic weight capacity to ensure it can support the tent's weight when driving. Some RTTs are made entirely of fabric, like a more traditional ground tent, while others have a hard case roof. They all come with collapsible telescoping ladders.
Which rooftop tent is right for your next adventure? Here are five cool ones worth checking out.
At first glance, the Skycamp could be mistaken for any hard-shell rooftop car carrier. It's sleek and aerodynamic, comes in glossy black or white, and stands 12.6-inches tall closed; slap on a ski resort sticker and nobody's the wiser. Pop the 250D polyester roof tent, however, and prepare to be blown away. Set up is as easy as opening the case, sliding out the integrated telescopic ladder/extending floor, and raising the entrance canopy. The rooftop tent sleeps four (two adults, two kids) on a high-density memory foam mattress, rocks a waterproof skylight for stargazing, and can be expanded with an attachable three-walled (10-foot by 13-foot) annex or awning.
Cascadia Vehicle Tents Mt. Rainier
The drop-down, zip-on rooftop tent is the big sell on the 3+ person CVT Mt. Rainier. Not only do you get a giant 6-foot by 11-foot room on top of the car, but an enclosed (and connected) 8 sqft. common room below. Essentially, it's like having a two-story tent with a ladder inside. It's made of a breathable poly/cotton rip-stop canvas, comes with a removable PVC floor and 2.5-inch-thick high-density foam mattress, and even rocks awnings over the windows.
Tepui's Tepui's Kukenam Sky makes the setup easy. It bolts to your roof rack crossbars and flips open when you reach camp. Flip it open, unzip it, adjust the included aluminum ladder, and stake out the window covers, and you're ready for occupants. It takes a pair to install the tent on the car, but once it's on the bars, it's fast and easy to set up. The tent has a permanent foam mattress inside that's more comfortable than any air mattress and, because you're off the ground, the tent usually stays cool. When the weekend's over, the rooftop tent buckles into a low profile brick with a waterproof cover, so it's always ready for an impromptu adventure.
The faster the tent gets set up, the sooner the outdoor fun can begin. And with the Autohome Air Top, a sleek Italian-made rooftop tent that sleeps three, the fun begins eight seconds after parking at the campsite. Simply unfasten the latches and let the four gas-ram powered lift arms do the work. If you still want the feel of setting up a tent, you can opt for the additional changing room that attaches to the side and extends to the ground. The three-season Dralon fabric tent stands 36-inches tall and comes standard with a comfy six-foot, eight-inch mattress made of 3½-inch thick closed cell foam. It also offers campers stunning 360-degree views of either the surrounding landscape (and/or campground parking lot), thanks to both side and rear doors, and a front window.
Roost Explorer
The beauty of the Roost is that it also converts to a 13-inch-tall cargo carrier; simply remove the 2-inch foam mattress and the detachable Velcro fabric walls and you're ready to load up those skis. As a shelter, it measures 7.5-feet by 4.75-feet, stands 5-feet tall (at the center), and sleeps two adults and a kid. The rooftop tent sets up in under 30 seconds. The Roost weighs 163 pounds, so just under the average dynamic weight capacity for most vehicles, and works with any off-the-shelf roof-rack system. Although, it can also be mounted on a trailer. There are two models available ⏤ the Explorer and Sportsman ⏤ and it's sold in a whole slew of colors, plus camo.
This article was originally published on