The Best Rolling Suitcases & Luggage For Your Next Trip
Because the right luggage can make or break a family trip.
by Berne Broudy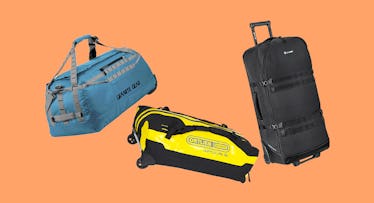 The right luggage can make or break a family trip. And, as far as we're concerned, nothing tops the rolling suitcase. The wheeled luggage is easy to pack, lets you carry more gear in a single bag, and leaves you with hand free to hold your child's hand, push a stroller, or tuck into an Annie's pretzel at the airport.
Whether you're considering a soft-sided gear hauler or a hard sided roller, you'll notice a pretty significant price spread. More expensive bags may have better zippers and fabric, so they'll hold up to use and abuse longer. Before you buy, consider where you'll travel. Is it a business trip? A bigger expedition? You may not need a 110 liter bag if you'll be staying at a downtown hotel. But if you're going on a weeks-long trip, you'll need a bag that can survive it. You'll also want a bag with smooth-rolling wheels and, if you're concerned about theft, something extra security features. And, you now, you'll also want a bag whose innards are well-situated for your packing needs.
In short, there's a lot to consider when searching for a rolling suitcase. That's why we did the work for you and found six excellent rolling suitcases. From affordable rollers to expedition-ready haulers, there's a rolling suitcase here for every type of trip — and, most importantly, person.
The Best Affordable Rolling Suitcases
Granite Gear 30" Packable Wheeled Duffel
This is a lot of bag for not a lot of price. Granite Gear's Packable Wheeled Duffel 30" defends your bag's contents and makes it easy to access your stuff. The water-resistant bag has reinforced handles that double as backpack straps, and its storm flap-protected, u-shaped zip on the main compartment makes it easy to pack — and easy to dig through to locate a favorite toy or blanket. When not in use, the duffel rolls and stores in an included carrying case; when you're hitting the road, the storage case, and other accessory pouches, snap to webbing lash points on the duffel's body for more storage and organization.
iFly Fibertech Luggage
This hard shell roller is a surprisingly affordable piece of luggage with relatively few compromises. The inside has a full lining, with a zip cover on one side and tie down straps on the other to keep clothing neat and gear organized. There's also the ever-handy expansion zipper, which adds an extra two inches of depth to accommodate souvenirs and presents you pick up along the way. Though it's not made for off-roading, its four 360-degree double wheels roll easily on most smooth surfaces. The bag comes with a 10 year warranty.
The Best Mid-Priced Rolling Suitcases
Eagle Creek No Matter What Flatbed Duffel
One of the nicest rolling duffels you can buy for everyday travel, the 102 liter Flatbed was inspired by the bed of a truck and is made from heavy duty water repellent, abrasion-resistant fabric with reinforcement at any and all stress points. A sturdy handle and heavy duty, oversized wheels help deliver your load—the wheels have more clearance in uneven terrain than most other bags. There aren't a lot of organizer pockets in this bag, but the large, zippered mesh door panel holds what you need to get to quickly. Top, bottom, and side haul straps make the Flatbed bag easy to grab in an instant off the conveyor belt or anywhere else.
Gregory Quadro Hardcase Roller 30
With four multidirectional wheels, even fully loaded, this 30-liter bag needs little more than a nudge to move it, which can be handy when you're juggling kids. It was by far the easiest bag to roll and telescoping handle lets you roll it on two or four wheels. It's made from a high-impact polycarbonate shell that's tough enough to protect delicate items. Internal compartmenting makes it easy to separate stinky or wet gear from the rest of your luggage: One side has a vapor, dirt, and odor resistant zip compartment that can hold up to 50 percent of the bags contents. An expansion zipper adds two inches of additional space all around. 11.8 pounds.
The Best High-End Rolling Suitcases
Packsafe Toursafe EXP34
One of the safest bags on the market, this duffel not only has slash-proof mesh hidden beneath the outer fabric but also a puncture-proof zipper and a cable that extends, wraps, and locks around any stationary object. Safety aside, the 11 lb., 106-liter duffel has internal and external compression straps to keep the bag's contents neat, and plenty of space to hold whatever you need to transport. It rolls on two wheels, pulls on a heavy duty handle, and has haul straps that make it easy to heft into a car.
Ortlieb RS Duffel
You'll be hard pressed to find a bigger, burlier gear hauler than the 140 liter Ortlieb RS. The rolling bag you need when you have a lot to transport, or challenging terrain to get to your destination, it's waterproof, well-pocketed, and tough enough for the most intensive family travel, and extremely light for its size (it weighs roughly 5 pounds). The 100mm high clearance wheels are bolted to an aluminum floor plate in the foot of the bag, while flexible foam pads the rest of the underside to give the bag structure. There's no telescoping handle, but the bag is designed to be pulled with the rubberized end handle without tripping you up. When you're not using it, the RS rolls for storage.
Every product on Fatherly is independently selected by our editors, writers, and experts. If you click a link on our site and buy something, we may earn an affiliate commission.
This article was originally published on