The Best Rolling Backpacks for Back to School
This school year, get your kid a backpack that rolls (and also rocks).
by Lauren Steele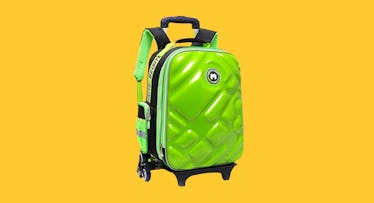 Don't underestimate the power of the rolling backpack. These wheeled bags are the saviors of shoulders and necks, doing away with the strain your kids experience from having to carry the whole classroom around all day. To add to it, they're sturdy, look cool, and double as a mighty weekend bag. For this back to school season, we found the coolest, sturdiest roller backpacks that can wheel down the hallways or rest on your child's shoulders — whatever they choose.
JWorld Lollipop Rolling Backpack with Lunch Bag
Finding a pair of matching socks in the morning before school may not be a thing, but when you send your kid off with a matching backpack and lunchbox, it makes everything seem a little more put together. What we appreciate most about this combo from JWorld is the fact that quantity hasn't usurped quality. The backpack is water resistant for those not-so-sunny days throughout the semester and the polyester fabric is protected on the bottom of the backpack by a synthetic shell—which keeps stains, scuffs, and tears away from all those days spent rolling along the ground. Plus, the back and straps are padded for a better, more comfortable fit for the times when carrying usurps the rolling method.
Pottery Barn Kids Rolling Backpack
It doesn't matter whether you're kid loves rainbow unicorns or dinosaur fossils, Pottery Barn has unique patterns and designs for unique backpacks covered. Kids can choose between 48 different patterns to express themselves best—and some designs even allow you to monogram or stitch their names into the fabric. Our personal favorites that are available now? Wonder Woman and Star Wars edition prints.
HIGOGOGO 6-Wheeled Backpack
With six wheels, this roller can travel up and down stairs without being drug up with that horrible clunking noise and without fear of obliterating the wheels. Other elements of this pack's design make it even smarter and more durable, though. The PU face of the pack is water resistant and super easy to clean, so you won't have a stained-up knapsack of a backpack by the end of fourth quarter.
Tilami Armor Rolling Backpack
Sure, all you really need is a laptop sleeve inside a backpack for it to be a "laptop backpack" but Tilami's Armor backpack has taken it a step further by incorporating rugged, protective elements to its design—including a durable rubberized bottom to guard the contents of the pack from bumps along the way. There is also a concealed pocket on the back where you can tuck the shoulder straps when you aren't using them.
Züca School & Sport Bag
A little bit on the pricey side, the Züca frame and bag set is a piece of your teen can bring along for the ride long after graduation (but it's weird to think about graduation, right?). Each set comes with a lifetime guarantee, is water resistant, is climbing-capable on stairs, and is complete with a gear platform on the frame so you can carry additional loads.
This article was originally published on