The Best Robot Vacuums for Floors, Carpets, and Pet Hair
Because doing it yourself just sucks.
by Donna Freydkin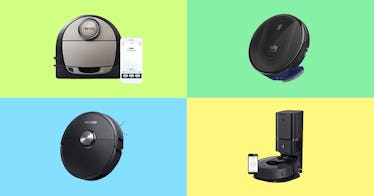 Unless you have an inexplicable affinity for vacuuming your home daily, you need a robot vacuum cleaner. Why? Because pets shed, kids drop crumbs everywhere, and there are not enough hours in the day to sweep up after them. Which is where the best robot vacuum comes into play. You program it to do the dirty work for you. Quite literally.
When choosing the right robot vacuum, pay attention to its run time on a single charge. Some range from 30 minutes, to 90 minutes. Some are better for rugs. Others are pros at washing your floors. Before you invest in one (and yes, it's an investment), evaluate whether you're using it on carpeted or hardwood/tile floors, whether you have pets and need one with extra suction power, and how often you plan to use it. If you want one for hard-core daily use, prepare to spend more. You do get what you pay for. Most of the newer models let you program them remotely, so you can start them while you're out of the house and come home to sparkling floors.
It's worth noting that most of them, at some point or other, will get stuck under furniture. It's just the way it is. But that inconvenience outweighs the many ways they make your life that much easier (and cleaner). And that's what we call a clean sweep.
Every product on Fatherly is independently selected by our editors, writers, and experts. If you click a link on our site and buy something, we may earn an affiliate commission.
This article was originally published on