8 Ridiculously Fun Remote Control Dinosaur Toys
From a futuristic RoboRaptor that can walk, run, and stalk to a spinning, chomping T-Rex that farts if you pull his tail.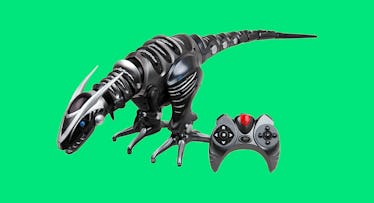 Dinosaurs may be extinct, but they'll never go out of style. The galloping predators and gentle shrub-eaters will always live on in books, screens, and, most importantly, the minds of our kids. And that's good news because today's dinosaur toys have never been better. Case in point: these remote controlled toys. From futuristic RoboRaptors that can walk, run, or stalk to 750-piece metal monsters that you build from scratch and let loose in your living room, each offers something for every type of kid. Better yet: Each one is designed to stimulate your little one's imagination — and even teach them STEM skills —as they stomp, chomp and crash through your house. Honestly, they're so much fun you'll probably take more than a few turns on the controls. Take a look.
WowWee 14" R/C RoboRaptor
WowWee's 14" R/C RoboRaptor is a bionic beast that measures in at more than a foot long, and can walk, run, or stalk via its included remote, or by using the app on your smart device. The RoboRaptor features multi-speed dynamic movement, plus fast, full-function arms with dual grippers. It's even programmed to play tug-of-war with you, or your Goldendoodleasaurus. You can even let RoboRaptor loose to explore on his own: he senses the environment around him, so he can stomp and chomp everything from the living room floor to the Jurassic jungle that is your backyard.
Toysery Remote Controlled T-Rex
Standing 14 inches tall and weighing roughly 2.5 lbs, this mini R/C T-Rex is the perfect tiny tyranno for remote controlled fun. Real feel skin on the neck and "authentic" dinosaur sounds add to the realism, while lights illuminate the eyes, mouth, and back. The remote control has two separate buttons for head and leg motions, and features forward, dash, dance, and attack functions. It's the closest you can get to the real thing without being eaten off the toilet.
Meccano Meccasaur
If you can't dig up a dino in your backyard, why not build one with the kids instead? The Meccano Meccasaur, which is from the same company that makes the classic Erector sets, is a 715 piece programmable robot that you build up to be your new prehistoric pal. Once assemble this fully mobile, three-food T-Rex roars, responds to being pet, "attacks" on command, and stomps around.
Animal Planet Remote Control Charging Triceratops
Featuring light-up eyes, realistic noises, and movement that's based off that of the actual horned herbivore, this remote control Triceratops is an ideal starter kit for dino-loving kids. An included remote makes it easy for kids to operate it while its ability to buck and charge forward means other action figures won't want to mess with it.
Zoomer Dino Indominus Rex
The Zoomer Dino Indominus Rex is John Hammond's worst nightmare. (Other than the ethical dilemmas associated with playing God.) This collectible edition Indominus Rex from the original Jurassic World uses True Balance Technology™ to hunt, guard, and explore its surroundings. Advanced infrared sensors in its nose detect your hand movements and interpret them as motion commands, while the remote control allows you to program different attack modes, record special move combinations, and guide its path of destruction however you choose. It's perfect for chasing Mom around the house – especially if she's wearing high heels.
Spinmaster Zoomer Dino
Meet Boomer — an incredible robo dino that your kids will love to try and tame. It features realistic dinosaur movements, sounds, and "dino-sense" abilities that allow him to detect when you're nearby. Play nice, though, because Boomer's Tyrannosaurus tantrums are pretty fierce: He spins, chomps, and roars using innovative balancing technology and, if you yank his tail, he unleashes 65 million years of carnivore farts and burps. He's universally beloved and a two-time Toy of the Year winner.
Learning Journey Dancing ABC Dino
For the preschool paleontologist in your life, there's this RC dino, which features engaging movement, a wiggly tail, and fun dance moves. The ABC Dino can walk, dance, or talk via the remote control, and it has both an "Action Mode" for free play, and a "Let's Learn Mode" for guided lessons. It also plays music, so your toddler can dance along with the fun. And it says "I'm a prehistoric dancing machine" on command. Can Godzilla do that?
Haite Remote Control Robo Dino
As if a remote-controlled robot dinosaur isn't cool enough, this one also sprays mist. The Haite Robo Dino slithers its tail to and fro while it walks, and waits for your commands. The eyes light up to indicate that Robo Dino is ready to battle, which should be no problem considering it's pacing a spine-mounted missile launcher. Robo Dino also has a study mode, which can help kids learn math and language skills. Oh, and the mist! A special nozzle inside Robo Dino's mouth can be primed and activated to squirt a fine mist of water with the push of a button. Pretend its fire. Pretend its venom. Or, prop him on a pillow, and pretend it's you after a night of bad reflux.
Every product on Fatherly is independently selected by our editors, writers, and experts. If you click a link on our site and buy something, we may earn an affiliate commission.
This article was originally published on