Bring on the Night: The Best Running Gear to Help You Stay Visible
The lights, reflective layers, and other high-visibility running gear here will ensure you stay safe while you log miles in the dark.
by Hudson Lindenberger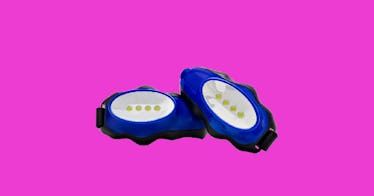 Fall brings many great things with it—Halloween, cooler evenings, colorful trees, some damn fine beers. But, it also means the days are shorter days and darkness looms by the time you get home. This makes running a bit tricky. But the lack of daylight doesn't mean you have to banish yourself to the treadmill. It merely means that you have to be smarter about how you run — and what you wear to make yourself not just visible but distinguishable from, say, a distant traffic cone. One of the best ways to do that is wear workout clothing and gear that illuminate the moving parts of your body. Lights. Clothing with reflective elements. Here are eleven items that will ensure that you are seen long before trouble approaches.
Nite Ize Slapit
The best asset of this reflective bracelet is its simplicity. Slap the bracelet around what ever part of your body you want to illuminate, then squeeze its button to activate the wrap-around LED light embedded within. It comes in three different colors and will run for up to 100 hours before needing new batteries.
Nathan Neutron Fire RX Runners Headlamp
This feather-light lamp kicks out 200 lumens of light, more than enough to light up your path while highlighting you to cars. The beam is adjustable and there are side color strobes and five different settings. Its rechargeable USB battery will run 26 hours per charge, and the strap securing it to your head is also reflective.
Noxgear Tracer360
Outrageously lightweight, simple to wear, and very visible, this vest wraps you in reflective materials and LED lights. You can set the large light panel on the back and two LED tubes that encircle you to an array of flashing options and colors. The vest is water resistant and its heat-resistant mesh design will keep you comfortable.
Panther Vision Powercap
This cap features four LED lights embedded in the brim (two aimed forward and two at your feet) to illuminate even the darkest of nights. The moisture-wicking fabrics helps keep your cranium comfortable and the sweatband ensures sweat doesn't rain into your eyes. For colder climates they offer a beanie with the same technology.
Asics GT-2000 6 Lite-Show
Buying a pair of reflective running shoes is a no-brainer for night running. Every single step highlights that you're on the road to motorists. These shoes from Asics are super lightweight, offer medium cushioning, and have several reflective materials built in to provide you with peace of mind when the sunlight fades.
Rabbit Reflective Tights
These mid-weight, stylish tights fit comfortably without being too snug and feature a large reflective stripe running up each leg. A rear zip pocket stashes your keys; mesh knee vents to keep you cool.
Brooks Dash Arm Warmer
Perfect for the warmer nights when you don't want to bundle up. These arm warmers have reflective elements built into them, come in six different colors, and cover your wrists and back of hands from the elements.
Knuckle Lights Original
Designed to both illuminate the pathway in front of you, and alert vehicles of your presence, these lights are perfect for running at night. They fit over each hand at your knuckles (hence their name), are held in place by an adjustable strap, have three light settings, and kick out a total of 150 lumens.
Adidas Supernova Confident Three Season Jacket
Adidas' climacool technology will keep you comfortable in a variety of conditions, while the 360-degrees of reflectivity keeps you in the sight of passing cars. It's water repellent exterior means you have no excuses not to go on that morning run.
Asics Lite-Show Long Sleeve Top
This brushed knit shirt features a longer cut and thumb loops to keep you warm on chilly nights, but also has mesh underarm panels to keep things fresh. Best of all the fabric and embedded strips offer 360-degree reflectivity in low light.
Miscly Reflective Shoelaces
If you don't want to buy a pair of reflective running shoes these laces from Miscly will help make your shoes stand out to oncoming traffic. They are wrapped in 3M reflective threading and pop in the night as soon as light hits them.