6 Punching Bags & Heavy Bags for Home and Travel
Want to work out some aggression on a punchable torso? Add a new layer of stat-tracking to your boxing workout? These bags have you covered.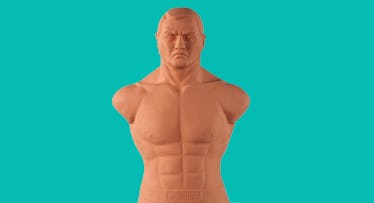 Going a few rounds with a punching bag or heavy bag is an excellent way to work on your cardio and, more importantly, release some pent-up rage. But which is the best bag to fit your needs? Whether you want to work out some aggression on a punchable torso, add a new layer of stat-tracking to your existing workout, are looking for a near-silent bag you can wail on without fear of waking the kids, or simply want an affordable beginner bag, we've got you covered.
Last Punch Heavy Duty Pro Punching Bag
An ideal purchase for at-home pugilists who want a very basic first-time bag that doesn't cost a lot. This canvas bag is 50-inches long (when hung) and 18-inches wide and arrives empty. That's on purpose: you can fill with whatever you want (think: clothes; towels; balled up credit card statements). It comes with metal chains that are durable and easy to hang. Best yet? Because of the weight don't have to worry about crazy shipping costs.
B.O.B.
Short for "Body Opponent Bag", B.O.B is is much more than just a creepy, flesh-colored nudist on a pole. Made by Century — the bar-setting martial arts gear and product company since 1976 — B.O.B. is a lifelike mannequin designed to absorb strikes, punches, and general pounding from the waist up. Covered in high-strength plastisol (sort of a flexible PVC compound), he's stuffed with high-density urethane foam. Seven height adjustments allow you to raise and lower B.O.B. from 60 inches (David Spade) to 78 inches (David Hasselhoff). The base is fillable up to 270 lbs. with your choice of sand or water, and will anchor B.O.B. to the floor no matter how hard you hit him.
TenCount Bluetooth Smart Series Heavy Bag
A smart device-controlled punching bag? Apollo Creed must be rolling over in his grave. But the TenCount Bluetooth Smart Series Heavy Bag is basically a digital sparring partner that keeps track of your workouts, punches, and progress. Sensors throughout the 48" heavy bag register the quantity and impact of every strike, and instantly transmit your results to your smartphone or tablet using the free TenCount App. The synthetic leather cover and thick inner foam layer are easy on the wrist and knuckles, while the recycled rubber filling makes the TenCount the world's only environmentally friendly green bag.
Quiet Punch
If you want to beat the bejesus out of something, but don't want to wake the kids, consider the Quiet Punch Designed to set up quickly and easily in a standard doorway, it weighs a scant four pounds thanks to the lightweight, open cell foam core. Even better: Because it doesn't hang from an I-beam or ceiling fixture, the Quiet Punch's disruption to adjoining apartments or floors is minimal. There are two bars (one above your head and one below), and four bungee hookups that absorb the strike pad's reverberation and, with the dedicated Quiet Punch YouTube channel, you can learn tons of workout routines and techniques. There's even an app to track your progress, and the Quiet Punch's minuscule footprint (it's about the size of a throw pillow) makes it perfect for travel. Just be careful not to accidentally deck the room service guy when he opens the door.
Everlast Omniflex Free Standing Heavy Bag
Don't have the room to hang a bag? Consider a freestanding model. Everlast's Omniflex bag is made of leather and vinyl and sits on an adjustable stand connected to a plastic base. With a few tweaks, it can stand up to 67-inches high. The bag sits on a flexible neck that enables it to move like a traditional heavy bag when hit, providing a similarly satisfying sensation. All told, it weighs 130 pounds.
StairMaster BoxMaster Tower
Designed by Aussie boxer Rai Fazio, the BoxMaster is a one-stop-shop for all of your boxing needs. Endorsed by everyone from Robert DeNiro to Hugh Jackman, it's designed to help you improve stamina, coordination, agility and overall cardiovascular health. It features 12 strategically placed pads, which will accommodate everything from backfists to body blows. Those pads are mounted on spring-arms that absorb said blows and prevent injury. And the best part? All those arms, and it still can't hit you back.
Every product on Fatherly is independently selected by our editors, writers, and experts. If you click a link on our site and buy something, we may earn an affiliate commission.
This article was originally published on