The Healthiest Protein Bars, According to a Nutritionist
They can help you maintain lean muscle and curb your cravings.
by Hudson Lindenberger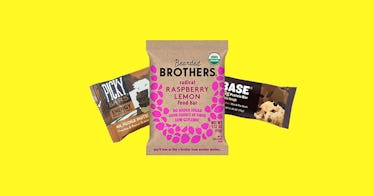 Yeah, eating a healthy, made-from-scratch meal is the ideal. But as dads, we don't always get the ideal. Sometimes, between rushing from a workout to grab the kids from soccer practice, there's literally not enough time to sit down, let alone do food prep. Enter the humble, healthy protein bar, which is can be your most cherished Plan B. The best protein bars can serve as a healthier alternative to other packaged snacks for those who lift weights, those in need of a quick post-workout meal, and all those who are replacing a meal on the go. In these cases, a low-sugar protein bar is better than most fast food, and can provide a quick hit of protein in the event that a sit-down meal isn't an option. But that's about the extent of the benefits offered by even the healthiest protein bars. Why? They're not any nutritionist's idea of a healthy snack.
"I understand that nowadays everyone is always short on time and rushing from one commitment to the next, but I think people rely on protein bars too often," says Jennifer Silverman, a New York–based nutritionist. "Depending on the bar, they might be upward of 250 or 300 calories and packed with added sugar."
Plus, many high protein bars are packed with fillers. Silverman suggests looking out for added and fake sugars (sucralose, erythritol, and aspartame in particular). "Instead look for bars that have ingredients you can pronounce and natural sugars," she recommends.
How to Find a Healthy Protein Bar
In a perfect world, a protein bar should have no more than 14 grams of sugar per serving.
It should also have about five or so grams of fiber, which helps you digest it slowly and release its energy evenly.
It should have four grams of fat.
If you are looking to shed weight, the maximum calories a bar should have is 200.
If muscle gain is your goal, a bar should have at least 20 grams of protein.
Otherwise, a protein bar should have 10 grams of protein.
You can always make your own low-sugar protein bars, but if you don't have time, these are some of the healthiest protein bars on the market. You'll note that some have more sugar than others, because ultimately, if you don't like the taste of something, you won't eat it, no matter how much it's marketed as good for you. We've provided the nutritional info. You make the call.
Every product on Fatherly is independently selected by our editors, writers, and experts. If you click a link on our site and buy something, we may earn an affiliate commission.
This article was originally published on