7 Great Bottles of Prosecco to Pop on New Year's — or Whenever
Here are seven incredible examples of the good stuff — at equally incredible prices.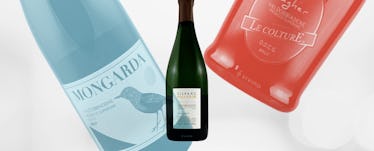 Good bubbly comes at a price, but there are incredible values to be found in Prosecco if you know what to look for.
"Thanks to the glut of industrial examples that have transformed it into a billion-dollar industry, most consumers think of Prosecco as something cheap and simple to pour into a Bellini or Mimosa," says Zachary Sussman, author of the new book, Sparkling Wines for Modern Times.
According to Sussman, these "pop wine" stereotypes come from the fact that to keep up with surging demand, Prosecco's area of production has rapidly expanded, and its prestige has been hindered by high-yield chemical farming. This mass-market model has obscured the identity of the tiny hillside villages that comprise Prosecco's ancestral home.
The best Prosecco is labeled DOCG, or "Superiore," and comes from a small, mountainous region known collectively as Conegliano-Valdobbiadene. "Here in the 'Superiore' sub-zone is where you'll find Prosecco's soulful side," says Sussman. Populated by independent, family-run vineyards and wineries that have been making wine for generations, Sussman has found the wines of Conegliano-Valdobbiadene to offer a stark contrast to the "big brand" mentality that has come to define the Prosecco category.
Prosecco from the DOCG is harvested by hand, which requires more than three-times as many hours of manual labor to harvest as Prosecco from the plain that yields the more ubiquitous, DOC variety. DOCG Prosecco tastes the way it was originally intended to taste, with rich character from the unique location and organic farming in ancient soils, remarkable dryness thanks to its low residual sugar content, and more nuanced fruit flavors due to thoughtful harvesting.
If you're looking to grab a bottle, here are some prime examples of Superiore Prosecco that can be found in the US, all at remarkable values.
This article was originally published on