What a Professional Organizer Uses to Keep Her Kids' Bedrooms Under Control
Everything you need to keep your kid's room neat, orderly, and ready for the school year.
by Jon Gugala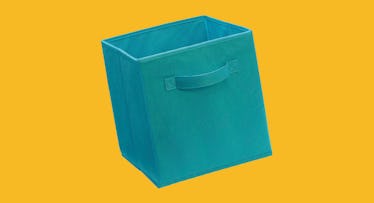 When it comes to kids' room organization, kids' bedrooms are a difficult nut to crack. Especially when it comes to toy organizers. You want to keep the mayhem to a minimum, yes, but you also don't want it to seem like they sleep in some sort of personality-less bubble.
"Pick one battle, and try to win that battle," says Amy Tokos, a NAPO-accredited certified personal prganizer and owner of the company Freshly Organized. For almost 11 years now, the Omaha, Nebraska, local has been helping people clean up and stay that way. But Tokos, a mother of four, has a special place in her heart for families. When asked about the best products to organize a kid's bedroom, she was a fountain of information. Her advice, paired with some of our favorite organizational systems, is just what you need to start the school year and the fall off right: neat, orderly, and with everything in its place.
Kids' Room Organization
You know that crippling, overwhelmed feeling you get when walking into your son or daughter's thrashed bedroom? They feel the same — only amplified. "[Kids] don't notice it when they're pulling stuff out, but trying to get it all back in is very hard on children," Tokos says. The solution? Store excess books and clothing. Kids won't notice what's not there and, with the less in the room, there's less to throw around.
"The same goes for toys," Tokos says. "You minimize them, it's easier for them to pick up and clean up." This is to say, find a selection of toys that stays in the room and put the rest of them in a series of bins that you'll move in and out
Tokos, like many personal organizers, is a fan of simplicity, but she doubles down when it comes to organizing for families. She gives an example of a game closest. To access the game, your child must open the closet, remove the game, take the game somewhere, play the game, clean up the game, take the game back to the closet, open the closet, put the game in the closet, and close the door. "That whole process is a lot of steps," she says, "so kids aren't likely to complete that process." Instead, she recommends using an open shelf, uncluttered, with a few games — two or three — near the play area.
Our Pick: Seville Classics 2-Tier Rack, which easily accommodates a few games while allowing ease of access with its open shelves.
Older kids reach a point when they're spending more time in the bathroom than they used to, which can affect usage by multiple children. Tokos recommends moving everything out that doesn't require water. Blow dryers, curling irons, makeup, and a mirror should all be moved into the bedroom to alleviate traffic. "It frees up the bathroom for other people to use," she says.
It's easy to get sucked into the trap of continually buying new toys if they're educational. While Tokos cautions against even this caveat, she proposes a compromise: Get one or two big plastic bins and divide toys into two or three groups. Keep one group out, with one or two stored away. Every week or month, rotate a new group in as the current group cycles out.
Every product on Fatherly is independently selected by our editors, writers, and experts. If you click a link on our site and buy something, we may earn an affiliate commission.