Best Pressure Washers
Easily clean decks, patios, driveways and more with pressure washers and power washers.
by Jon Gugala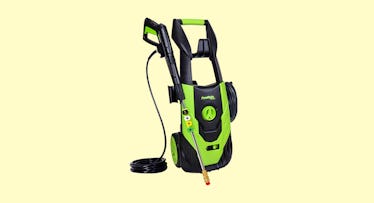 Taking care of a home is all about having the right tools for the job, from a vacuum cleaner to keep carpets and rugs spotless to a lawnmower to keep the lawn from becoming a jungle. For everything from a concrete driveway to vinyl siding to a cedar deck that tool is a pressure washer, but finding the best pressure washer for you can be tricky.
If you plan on using soap, choose a pressure washer with a built-in tank. They're generally easier to operate, as you won't have the weight of the soap on the spraying wand (and, by extension, your arms). Wheels are a must for heavier modles, as are adjustable or interchangeable nozzles that allow you to tailor the output for the job. A narrower stream will travel further, making it great for reaching, say, the second story of a house, while a wider spray is great for more delicate jobs like car washing.
Like a lawnmower, the most important decision to make when buying a pressure washer is what will power it: gas or electricity. A gas-powered pressure washer is best for big areas since it has the muscle to push more water wider, making short work of even the largest jobs. An electric pressure washer works better in tight spaces, as its more maneuverable and portable.
No matter what your needs are, there's a pressure washer on our list for you. Read on for our picks for the best pressure washers you can buy.
Pros: Gallons-per-minute, or GPM, is an important metric for any washer, as it gives clear information on how much water it's blasting into the surface for a deep clean. Greenworks pumps out a respectable 1.2 GPM at 1,500 PSI, allowing it to pummel dirt out of well-trodden wooden decks and faded stone. We also liked its top-carry design, which allows you to grab the 17-pound unit it and drag it to the next spot. (But with a 20-foot hose, you won't have to do this all that often.)
Cons: Those without a faucet or spigot readily available will be disappointed to learn that without an integrated, you're hamstrung by access to a water source. Also, while 20 feet will be all the hose needed by some, others may want to upgrade to longer lengths for convenience.
Pros: If you're looking for an electric pressure washer that's easy to tote around that can handle basic jobs, this one is for you. It has a twist nozzle to adjust angle of spray from 0 to 45 degrees.
Cons: Leave the bigger jobs to the bigger washers.
Pros: This electric unit comes with four different nozzles that are easy to swap out, along with a 48-ounce detergent tank and a lengthy 30-foot hose. It uses 80 percent less water than a standard garden hose and cleans with 2,000 PSI of pressure.
Cons: This model is kind of top-heavy, so if you walk far enough away to make the hose taut it could send the whole thing toppling.
Pros: A 1,500 pounds-per-square-inch (PSI) pressure washer is great for everything from washing the car to cleaning off siding to blasting dirt off the deck. The 35-foot electrical cord and 20-foot hose mean that an extension cord will rarely be necessary, and the high-pressure foam system is especially nice for deep cleaning.
Cons: Since it only includes a 15-degree nozzle, you'll likely want to upgrade the wand, as other customers have, for greater flexibility. These add-ons are generally inexpensive, however they won't make this pressure washer strong enough for tougher jobs.
Pros: Briggs & Stratton says that the included turbo nozzle can help you clean up to 40 percent faster, and the 20-foot hose means you'll spend less time wheeling the washer around and more time blasting away dirt and grime.
Cons: Some reviewers complained that the unit gets hot and loses pressure after extended use, so it's probably not the best tool for massive jobs.
Pros: Five "Quick-Connect" spray tips allow for precise application for every job, while the 2,030 PSI and 1.76 GPM metrics are powerful enough to take down a lawnmower. We really liked the dual detergent tanks, which allowed us to have two .9-liter cleaning solutions accessible via a flick of a switch. (Transition between spraying the deck and washing the car was a breeze.) The wheeled base was incredibly easy to move around the workspace.
Cons: By far the biggest on this list thus far, the nearly three-foot-tall body tips the scales at 31 pounds. It's not the daintiest, and it may be too big for some spaces while including more power than necessary for most household jobs.
Pros: Like a marathon runner, the K5 Premium carefully monitors its vitals, ensuring it can make it through the longest jobs without breaking down. The water-cooled engine nevertheless still pumps out a respectable 2,000 PSI at 1.4 GPM. We also appreciated the two included wands—one for more delicate cleaning and the other, the "Dirtblaster," for more rugged jobs. The integrated hose reel is a nice touch, ensuring tangle-free storage.
Cons: Like the previous unit, the K5 Premium is a beast at 32 pounds and nearly three feet tall. The space-conscious should be looking higher up the list or considering renting a more powerful unit for occasional tasks.
Pros: The EPW2123100's stats are so overpowered when compared to others on this list that they hardly seem real: 3,100 PSI at 2.8 GPM, it doubles their power. Credit its .95-gallon gas engine, which turbocharges its power and is the choice of contractors around the U.S. We loved the brass-headed wand and easy-access, color-coded nozzle holder.
Cons: This wheeled machine, at 76 pounds, is heavy, certainly. Either a strong back or a friend is required to pick it up. But even with this tick, it's still remarkably small: Less than two feet cubed, it cuts a more lithe silhouette than many others on this list.
Pros: With 3,200 PSI at 2.5 GPM, this Simpson Cleaning model will handle the most difficult jobs, from deep cleaning siding to peeling old paint off a fence. Credit its gas engine. But beyond just being all brawn, it's surprisingly easy to move thanks to a solid metal from and 10-inch wheels. Five color-coded nozzles are within hand's reach, and its 25-foot, abrasion-resistant hose is better than some upgrades. This is a beautiful, powerful machine.
Cons: While it weighs in at 55 pounds, it's not the heaviest on this list. The only ding is its price, which is the most expensive here. Still, this is the most powerful unit for home use (read: not pulled via a vehicle).
Every product on Fatherly is independently selected by our editors, writers, and experts. If you click a link on our site and buy something, we may earn an affiliate commission.
This article was originally published on