The Best Portable Bluetooth Speakers At Every Price
And one very awesome amplifier.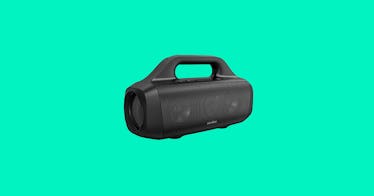 When it comes to Bluetooth speakers, the name of the game is convenience, which every parent appreciates. They're portable, and once you connect them to your phone the first time, your speakers will remember and automatically reconnect to deliver superior sound every time.
When you're shopping for Bluetooth speakers, you want to look at whether they're waterproof (for pool parties, of course), how long the charge holds, and whether it's easily integrated with your smart home technology. Oh, and of course, make sure it looks good, too.
See more: Best Headphones For Your Kids
So you already know you want to go Bluetooth, but the options out there can be deafening. We've narrowed down the myriad choices to seven of our favorites. No matter your preferred listening situation, aesthetic taste, or budget, there's a speaker on this list that will free you from the tyranny of wires. Just don't show your kids how to use it unless you want to hear "Baby Shark" for the umpteenth time.
Every product on Fatherly is independently selected by our editors, writers, and experts. If you click a link on our site and buy something, we may earn an affiliate commission.