The Best Poop and Potty Toys From This Year's Toy Fair
Number two is the number one new trend in toys. Here are nine poop-centric playthings dropping soon.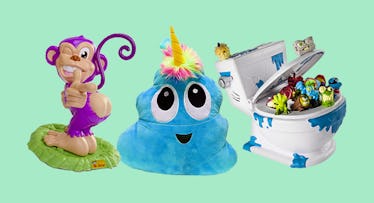 Fake poop, Whoopee cushions, and potty humor, kids have always loved gross-out toys. Those toys, however, have rarely accounted for more than a sliver of the $20 billion dollar toy industry. But now, thanks in large part to the adorable nature of Apple's poop emoji, not to mention last summer's The Emoji Movie, which featured a Patrick-Stewart voiced poop and was also a big steaming pile of it, never before have so many toy makers taken to the toilet for creative inspiration. In terms of new toy trends: 'Number Two' is, without a doubt, number one.
And nowhere was that more evident than at this week's International Toy Fair, where everything from poop games, plushies, and pool floats, to crappy collectibles, squishies, and slimes were on display. They might as well have dubbed it the Feces Fair ⏤ everywhere you looked there was poop. But which crap-themed crap stood out, elicited a laugh, or just looked like something kids will love? Here are nine we thought floated at the top.
Flushin' Frenzy
The goal of Mattel's new potty game is simple: plunge the toilet until the poop shoots out, and then catch it in the air. Doing so earns you two chips, and the player with the most chips wins. Although considering it's a game where you catch poop, does anybody really?
Flush Force
Flush Force is Spinmaster's new line of disgusting collectibles that are shaped like gross foods, animals, bodily emissions, and other things that end up in a toilet. There are over 150 to collect in different categories (Dump Divers, Mean Munchies, Putrid Parts) and to find out which Flushy you bought, you simply fill up the toilet bowl with water, shake, and open the lid.
Emoji Super Cool Poop Slime
Kids love slime. Kids love poop. Behold Kangaroo's Emoji Poop Slime. It's slippery and cold like a liquid, so it can slip through your fingers, but it's solid. So, super cool?
Don't Step In It
Hasbro's 'Don't Step In It' is essentially a gamified version of real-life dog ownership, except instead of dodging actual piles of poop in the backyard, you have to navigate a game mat full of molded dough in the living room, and while wearing a blindfold. It's targeted to ages 4+, can be played with an unlimited number of kids, and best of all, nobody's shoes will stink when the game's over.
Pass Gass Dog
In this game, Gass is a plastic canine with three scents and five fart sounds. Which scent cartridge (sweet treat, old leftovers, garbage can) gets loaded into Gass depends on where the spinner lands, but as he's passed around, players pump his tail and hope they don't get farted on.
($20, Available for Pre-Order)
Hog Wild Sticky The Poo
Sticky the Poo is a moldable pile of crap that you can throw at the wall. Part stress toy, part collectible (there are three expressions), part of a horribly misguided toy trend?
Poopeez
Like Flush Force, Poopeez is a line of collectibles shaped like fun feces and other grossness. There are 36 characters to collect, come packaged in mini rolls of toilet paper, and can be squished and stretched, not to mention ejected from a toilet launcher that's sold separately.
Pull My Finger
Similar to Pass Gass but with an ass-inflating monkey named Mr. Buster, the goal of Pull My Finger is also to not get farted on. Play is equally as simple: Give the spinner a whirl, pull Buster's finger, and watch his butt get big. If he lets rip while you're tugging, you lose.
Poo-nicorns are a line of collectible stuffed and squish animals that combine all the finest attributes of both unicorns and poop, specifically, the poop emoji. There are Poo-nicorn Plushiez, stuffed dolls available in neon colors and three sizes; Poo-nicorn Squishiez, a 5-pack of collectible stress toys that look like crap, by design; and Poo-nicorn Droplings, which not only have the best name but combine the other two products. They also come in a Hatchimals-esque egg, although it's unclear why. This year, they're also unveiling Poo-nosaurs (yes, poop dinosaurs), poo-jamas, and even a Poo-nicorn bicycle.
This article was originally published on