Castles, Clubhouses, Forts, and More Amazing Indoor Playhouses for Kids
They set up easily, are affordable and provide an easy activity when you're cooped up inside all day.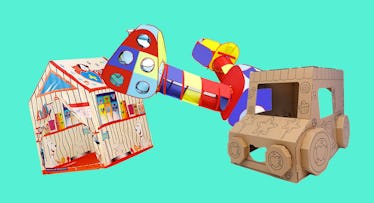 Kids' tents, forts, teepees, tunnels, and playhouses not only offer a place for a kid to hide out and sharpen their imagination, but also an easy way for you to occupy time when the family's inside all day and options are limited. Kids can use playhouses for quiet time or invite friends in for loud games of pretend. Plus, the ease of collapsing a pop-up tent tends to increase the odds of it getting cleaned up in a timely manner. All of the models below are affordable, easy to set up and store, and appeal to a wide variety of interests. Plus, most of these fit multiple kids inside and can even double as sleeping quarters for a sleepover.
Petra Tunnel Play Tent
The two tents that come in this play set are easily connected by a tunnel to form the perfect hangout spot for your child with or without their friends. Each of the two rooms has their own external entrances, floors, and covered ceilings through which they can crawl and hang out. It folds into its own carrying case less than one inch thick for simple storage and sets up in seconds. There are four different patterns to choose from and the fabric is easy to clean. Good for ages two and up.
POCO DIVO Crown Princess Castle
Blow your kid's mind with their very own kingdom with this simple to assemble pink palace. They can easily hold court with several friends inside this roomy tent that has two large windows, floor, a peaked roof, and roll-down door. Nice addition: if you set it up outside on cooler days the mesh windows will keep the bugs away. Good for ages three and up.
Pacific Play Tents Kids Spaceship
What better way to inspire games of imagination than a giant space ship? The roomy interior can fit a pack of kids as well as some small furniture and toys. The mesh windows allow you to keep an eye on the escapades without having to open one of the two doors and crawl inside, though reviewers say it's roomy enough for a few adults to fit. Good for ages three to seven.
Trademark Innovations Giant Teepee
At six-foot tall, the four walls and large opening of this teepee will seem enormous to young kids, and work perfectly with a strand or two of Christmas lights decorating the roof. There is a window on the backside and a roll-out floor, but the best feature may be the that the white cotton canvas exterior also works doubles as a painting surface so your kids can make it their own with some designs from water or oil-based paints. Good for ages four and up.
Dream Tada Glow in the Dark Canopy
For a more decorative option, canopies give off a whimsical, cozy vibe with their flowing tulle fabric. This one is large enough to cover a queen-sized bed, but it can also be hung in a corner to create a cozy little nook. The best part is its glow in the dark stars, which absorb light throughout the day and come alive like a mini Milky Way when the lights go out. Good for kids three to six years old.
Crazy Fort
This tinker toy-inspired fort kit takes an old standby — the indoor fort built from blankets and elevates it to a whole new level. Instead of using chairs and couches, you and your child create a framework over which you can drape sheets, blankets, XXXXL t-shirts. It comes with 25 geometric balls and 44 sticks that attach together to create whatever comes to mind. Good for kids five and older.
Playz 5Pc Kids Playhouse Jungle Gym
This simple to build habitrail of fun should keep kids busy for hours. It comes with two separate tents and tunnels, plus an enclosed, open-roofed play area with attached mini basketball hoop. Each part of the structure is wrapped in bright fabric lending a playground feel that will encourage kids to play inside. There are numerous mesh panels for easy breathability, multiple entrances, and you can change the layout whenever your desire. You can even turn the open play area into a giant ball pit if you desire. Good for kids three months and up.
Easy Playhouse Fairytale Castle
Part playhouse, part art project, this fairytale castle will likely occupy your kids for hours. Inside, there's room for several kids to hang out and its exterior is made to be attacked with crayons, markers, stickers and other art supplies. It does require a little bit of assembly, but once constructed its simple and sturdy corrugated cardboard design is easy to move and can withstand a beating. Good for kids two to ten old.
HearthSong Fantasy Fort
This set is comprised of 32 faux wood panels that both of you can use to build the fort of your kids dreams. Simply attach the panels to each other with the enclosed double-sided velcro connectors through holes in each panel. There even is a carton-building kit to make a two-story tower if desired. When the kids are not playing with it, you can create it's own holding box out of the twenty-two by twenty-two-inch panels. Good for kids four and up.
Ice Cream Truck
A full-service ice cream truck awaits inside this pink two-room tent. Well, an imaginary one. The inside is decorated with all different foods kids might choose to serve through the service window, and there are two holes on the top for kids to poke their heads through. It folds into a small, circular carrying case, making it easy to store. Good for kids three and up.
Every product on Fatherly is independently selected by our editors, writers, and experts. If you click a link on our site and buy something, we may earn an affiliate commission.
This article was originally published on