The Best Play Food Sets for Kids
These cute and durable play food sets will make your kid never want to leave the "kitchen."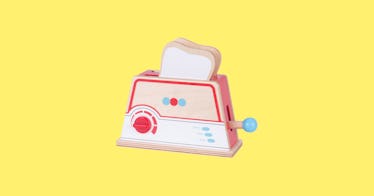 Most kids aged 3 through 8 are master chefs. These food connoisseurs and wise bakers are always ready to create an ambitious meal, an elaborate cake, or complicated soup of imaginary ingredients for a family of eight using toy food. Like many fantasy worlds that kids create, play food and play cooking is one way that kids make sense of the world: They see their grown-ups doing mundane tasks like making dinner or grocery shopping, somehow convince themselves they're fun, and make a go of it themselves with toy food sets. The best play food for kids looks like the real thing, but also lets kids get creative with how they arrange it.
"Pretend play certainly offers cognitive benefits, particularly increased language, as children speak as their role and interact with others during play. We also see children using the concept of theory of mind as they play pretend. Theory of mind is the understanding that one's own thoughts and feelings may be different from another person's, which children practice by taking on pretend roles and using their imaginations. Theory of mind is integral to social-emotional qualities and skills like empathy, the ability to predict others' behavior, and making friends," says child development expert Rebecca Parlakian, of Zero to Three.
Of course, you don't need to buy play food: If you ask a 3-year-old, acorns or toy blocks can become imaginary food just as well as a basket of wooden vegetables. But they're cute and fun and, most importantly, might give your child the idea to make avocado toast, which they might not have otherwise had. We've chosen play food for kids that are realistic enough and look good, so you won't be complaining too much when they're inevitably left on your real countertops or kitchen table.
The Best Play Food Sets for Kids
Every product on Fatherly is independently selected by our editors, writers, and experts. If you click a link on our site and buy something, we may earn an affiliate commission.