The Best Piggy Banks That Let Kids Save Money in Style
Because it's never too early to teach kids how to save.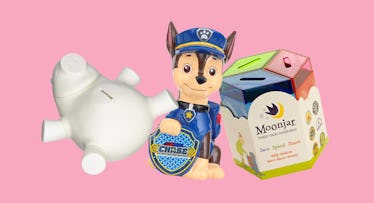 Piggy banks haven't changed all that much over the years — and that's just fine. The simple slotted vessels are, so long as you stick with it, a timeless way to give kids a lesson in the value of money and goal-setting. While some modern piggy banks for kids offer some digital tricks to help kids keep track of their savings, while others are simple ceramic or plastic jars that have cutesy ways of storing coins. Still others are made to look like your kid's favorite characters because aesthetics, after all, go a long way. After scouring through the offerings, here are our favorite new piggy banks for kids. Because it's never too early to teach kids how to save.
Matney Stealing Coin Cat Box
Put a coin on the pad on top of the closed box. One of the flaps will open, and a mechanical cat will pop out to say hello. It will then reach out and slide the coin down into the box. This is a complete gimmick, for sure, but gimmicks work.
HUSAN Electronic Piggy Bank
This bank has two slots, one for coins and one for cash. Instead of busting it open with a hammer or uncorking a plug in its underside, kids enter a numerical code they've set into the keypad to unlock the door. Wisely, it's also easy to reset the code by taking out and then reloading the batteries.
Quirky Porkfolio Smart Piggy Bank, White
This is the highest-tech option on the list. When you insert money into the slot in the sprawled-out pig's stomach, it counts the money and syncs with an app that allows kids to track their balance and set savings goals. Porkfolio, as the pig is known, also has some security measures in the form of an accelerometer that pushes an alert to the app if anyone tries to open or move it. See? He may be sprawled out but he's still sharp.
Digi-Piggy Digital Coin Counting Bank
The Dici-Piggy counting bank has a simple LCD screen (located in the snout) that automatically informs you how much loot is in the bank. Kids can also watch their savings grow the old fashioned way: by looking through the clear bottom half of the animal.
Moonjar Classic Moneybox
This bank is a great way for kids to learn about budgeting. Three individual chambers, labeled Save, Spend, and Share, can be bound together with an included rubber band and then separated when it comes time spend, deposit, or donate the money. Of all of the banks on this list, this feels the most like a teaching tool.
Paw Patrol Chase Bank
This classic bank is a standard oinker in the form of Chase. But if Paw Patrol helps your kids form good saving habits at a young age (and keeps them from buying a bunch of Paw Patrol toys), then maybe the hours of suffering you've endured while watching it are worth it?
Minecraft Chest Bank
Chests are a huge part of the Minecraft experience, and this branded bank's pixelated appearance will psych up any Minecrafted devotee. The cube is five inches on each side and has a simple coin slot on top.
Pokemon Pikachu Decorative Coin Bank
Part plush, part coin-saver, this .36 pound toy grows heavier and heavier with every coin placed into its slot. It's the perfect way to save up for the next Pokemon game.
Star Wars BB-8 Decorative Coin Bank
We'd trust BB-8 with our money for sure. This ceramic figure is eight-and-a-half inches tall, comes with a coin slot in the back of BB-8's head, and a plug in the bottom that you can use to empty it.
Child to Cherish Ceramic Piggy Bank
Of course we couldn't deny the OG piggy bank. This cartoon-y eramic version has two ears, four stubby legs, one tail, and zero gimmicks. It comes in four different colors, but pink feels like the right choice.