The 14 Best Pet Products For Families
We know. It's tough being a father to human kids and pets. These pet products are designed to make your life easier.
by Dave Baldwin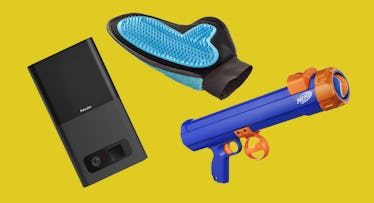 Even if your dog doesn't leave a warm pile of welcome-to-the-family in front of your newborn's crib, sometimes raising both young kids and pets can be a challenge. And since it's tough to feel great about adding "clean the cat's litter box" to your four-year-old's chore wheel, here are ten innovative pet products aimed at helping make your job as a parent with pets, or just a pet parent, that much easier.
Furbo Smart Dog Camera
For the helicopter pet parent who can't stand to be away from their pup, Furbo is essentially a high-end WiFi video baby monitor for canines. Except that in addition to streaming HD footage over the internet to your smartphone, you can also shoot dog treats across the room remotely simply by swiping the phone's screen. Imagine if your baby monitor did that! The Furbo's equipped with night vision and two-way audio (so you can literally talk to your dog from the office), and even sends alerts when they bark.
Ollie Pet Food
It's hard enough feeding your kids healthy food every day, let alone the dog. That's why this canine food delivery service (as in for dogs, not by dogs) wants to take that responsibility off your plate. You simply tell them what your pooch likes and doesn't like to eat (among other important details like age, weight, and breed) and they will not only design custom, portioned "human-grade recipe" recipes made with food from family-run farms, but also deliver the ready-to-serve meals right to your door. That way, you can go back to making hot dogs for the kids.
1-Running-Dog Bike Tow Leash
Turn your dog into a sidecar for your bike — or at least keep them from pulling you over when they chase a squirrel — with this innovative bike tow leash. It's made of a patented flexible mast and designed to keep medium-to-large canines away from the pedals while also keeping them from getting too far ahead or behind while you ride.
The Odin: Treat Dispensing Dog Toy
The Odin is a modular "interlocking treat puzzle toy" designed to provide dogs with "mental stimulation and physical activity." What, no STEM skills? Simply fill the Odin with treats and let your dog push, drop, or throw it around until the goodies fall out. When Fido gets bored with one Odin, you can connect multiple toys to mix up the difficulty level. Before you know it your dog will be building a robot.
The Casper Dog Mattress
Help make the transition from bed to floor that much easier for your displaced pooch with this dog version of the popular Casper mattress. It boasts a layered memory foam construction (just like yours) but is also designed with "excess material on top to mimic the sensation of pawing at loose earth" (nothing like yours). It's available in three colors (gray, blue, and sand) and three sizes (for dogs up to 30 lbs, 60 lbs, and 90 lbs), and even includes the same 100-night-trial, money back guarantee.
Whistle GPS Pet Tracker
It was only a matter of time before somebody invented a FitBit for animals, right? Well, it happened. Not only does the Whistle's live GPS tracker let you keep tabs on your pet's whereabouts every second of every day (although remember, good pet parenting means learning to trust), but it also monitors how much activity/exercise they're getting. So if they're home watching The Chew instead of chasing cats around the backyard, you're going to know about it. You'll also know if they bolt said backyard, as the Whistle sends text/push alerts when your pet leaves a designated area. It attaches to your animal's collar and can run 10 days between charges.
PetSafe Treat & Train Remote Dog Trainer
And to think, you were going to pay all of that money to a professional trainer. The PetSafe Treat & Train is essentially a remote-controlled treat dispenser that uses positive reinforcement to teach your dog to stop stealing food off the table, among other bad behaviors. The machine is used in conjunction with a multi-step training program developed around five fun games, and you can see how it all works here.
Luuup Litter Box
If the thought of changing a litter box every other day is dissuading you from getting that cat the kids won't stop asking for, the redesigned Luuup may change your mind. Essentially three identical slotted trays that stack together, the bottom two form a solid box while the top one acts as a sift. Simply pick it up, shake the litter through the slots, dump the poop, and move the tray to the bottom of the stack. That's it, you're done. No scooping, no shoveling, no changing the litter. See it in action here while trying to come up with another reason to not get a cat.
Glowdoggie LED Collar
For the pooch that listens to Skrillrex and already has its flight booked to Ultra, the Glowdoggie is a LED lighted collar designed to ensure they're the coolest canine at the rave and/or stay safe in the dark. It's waterproof (so ideal for night swims), comes in one of five colors (neon green, red, aqua, etc.), and uses a built-in motion sensor to turn on and off; simply slide the collar on your dog's neck with the battery section pointed down and it illuminates solid — no flashing or blinking. Remove and stand/hang the collar upright, the lights go off. The main thing to note, though: it's not designed to replace your dog's collar so don't try to hook a glow-in-the-dark leash to it.
Oto Ice Cream Truck For Cats
As you no doubt already own the Oto Ice Cream Truck playhouse and the Oto Ice Cream Truck Halloween costume, don't leave the cat out. Complete your family's ice cream truck fleet with this cardboard pet model that looks just like the others but with one key exception: the flavors painted on the side are all fish!
Petcube Bites
This allows you to keep an eye on your pet and feed it. It has a wide-angle camera, which you can use to watch your pet at any time of day (it has an infrared night setting). Sync it with an app on your smart phone to watch and throw treats from anywhere. The sound works both ways, so you can even talk to your dog or cat. Anytime you need a break from work, just turn on your phone and give your pet a treat.
Nerf Dog Tennis Ball Blaster
Throwing is tiring. Maybe sometimes you feel more exhausted than your dog after a game of fetch. No matter, there's a Nerf gun for that. Load with tennis balls and shoot about 50 feet up. Four tennis balls included.
Two-in-One Pet Glove
You already love grooming your dog or cat. Why not make it a bit more productive? This glove, made of fabric and rubber, allows you to deshed your pet as you pet them. It has a brush-like surface where your palm goes, so you can use it to remove hair from your cat, dog, or furniture.
PetFusion Ultimate Cat Scratcher Lounge
Made from recycled cardboard, the PetFusion Ultimate Cat Scratcher Lounge provides the ultimate hang out spot for your kitten. It is a place for it to sit, relax, and scratch away. That's not to mention it's sleek modern look, which may rival your other furniture. But only the best for your pet, right?
This article was originally published on