The Best Toys, Tech, And Gadgets For Parents From CES 2017
Cyborg Elmo! Smart underwear! Robot roommates!
by Dave Baldwin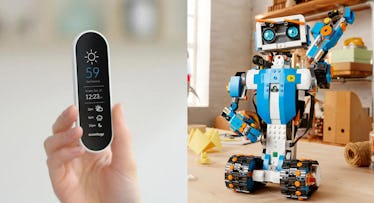 Every January, thousands of companies from around the globe descend on Las Vegas to unveil their coolest new gadgets and gizmos at the Consumer Electronics Show (CES). And popular to contrary belief, they aren't all drones and self-driving cars! Nope. From sleep trainers and smart baby monitors, to wireless breast pumps and robot assistants, many are designed with parents and kids in mind. Here are the best toys we saw at CES 2017 that you're going to want to keep an eye out for.
WowWee Elmoji
Because they'll only be 2 jobs available to your kids when then enter the workforce — robot builder and robot programmer — Elmoji is a Sesame Street version of WowWee's popular Coji The Coding Robot that teaches programming using logic/sequencing/memory games and emojis. It also responds to being shaken, tilted, and presumably, tickled.
Bloomlife Pregnancy Wearable
Designed to keep couples from frantically racing to the hospital every time a bout of Braxton Hicks hit, this wearable for women in their third trimester "detects, counts, and times" contractions in real time and records all the data in a smartphone app. No need to do quick math or use a stopwatch, and since you'll only need it for a few months, you can rest it. Don't worry, you'll still have plenty of useless baby gear around.
Kuri Home Robot
Instead of duct taping Alexa to Roomba get Kuri, the affable home robot assistant that autonomously roams around your house. He (she?) does everything from wake you in the morning, to play your favorite Phil Collins song (Sussudio, naturally), to read your kids One Fish, Two Fish before bed. The robot also takes HD images/video through its eyes, and keeps tabs on your place while you're at work. It also beeps, blinks, nods, smiles, recognizes people, and generally behaves like a less-sassy R2-D2.
REMI Child Sleep Companion
TempTraq Wireless Thermometer
TempTraq decided the days of rectal thermometers and squirming infants are over. Simply slap (or gently place) the Bluetooth-enabled thermometer patch under your baby's arm at the first sign of a fever and … well, that's it. The single-use thermometer syncs with your smartphone app and continuously records/tracks their temperature for 24 hours (after which it'll need to be replaced) while you get back to not putting a Vaseline-covered implement up their butt.
LEGO Boost
LEGO wants to give your kids a leg up on getting into a fancy engineering school. The Boost is their set of Bluetooth-enabled smart bricks that lets you build and program robots and other functioning models using motors, sensors, and an interactive coding app. Make a talking robot. A guitar. A space rover. A pet cat (what?). And even an automated production line that builds … more LEGO toys. The creative toolbox comes with over 840 pieces, but it's totally compatible with the other hundreds of bricks currently lying around your living room.
Sevenhugs Smart Remote
The "universal" remote control to end all remotes and clear your coffee table, Sevenhugs Smart Remote syncs with pretty much any smart device in your home — from your TV, to your thermostat, to your speakers. No exaggeration — it literally controls over 25,000 devices via Wi-Fi, Bluetooth, or infrared. And unlike those crappy generic remotes you use to have to frustratingly program with a manufacturer's code, all you do is point the Sevenhugs at it embraces it.
Spartan Radiation-Blocking Boxers
Don't wallpaper the living room with aluminum foil and force your neighbors to spy on you. Just get a pair of boxer briefs that shield your boys from the harmful effects of cellphone or Wi-Fi radiation. Is it EMF overkill? Well, on the off chance your sperm is being fried by seemingly harmless household radiation, at least you're covered. It works by weaving silver fibers into the cotton which creates an electromagnetic shield. Note: It does nothing to protect you from harmful effects of a football to the groin.
Willow Wireless Breast Pump
You've heard about the indignities from you partner — pumping twice a day in the office supply closet while holding that door closed with one foot. Shameful! Willow decided to put a wireless breast pump discreetly fits inside a bra so nursing moms can pump anywhere. At their desk: Pumping. Walking to Chipotle: Pumping. PowerPoint presentation to a high-powered client: Not pumping … but they could! There are no cords or dangling bottles, and the milk is stored in 4-ounce disposable bags hidden inside the pumps. Also, there's a tracking app, because it's 2017.
Hubble Hugo Smart Camera
It's one thing to have a nanny cam that tracks the people in your home. It's another to have one that tracks how they're feeling. Because playtime looks like it's going well, but that expression on your kid's face belies the truth. Hugo not only is a 360-degree Wi-Fi-enabled smart camera with noise, movement, and temperature alarms, but it also detects emotions based on facial expressions — everything from anger, joy, and sadness, to disgust, surprise, and fear. Can it do slightly bemused? Maybe with the next update.
Chrysler 'Portal' Minivan
Your family may not be ready to graduate to a minivan just yet. That's okay, the all-electric Portal from Chrysler is still a concept. That said, it's a concept you're going to want to keep tabs on. Not only is it semi-autonomous (so, almost self-driving) and gets up to 250 miles on a full charge, but it also offers configurable back seats that slide the length of the van, and rocks futuristic doors that open/close like an elevator. Sorry — Holodeck.
LG ProBeam
The ProBeam laser projector is parent-perfect for two reasons: First, it weighs just north of 4.5 pounds and easily fits in your hand. Which means you can tote it around the house, to backyard movie night, or on the big summer car camping adventure. Second, it uses lasers to throw 2,000 lumens of brightness and full HD (1080p) images up on the wall. So there's no need to dim the lights if anybody's scared of the dark — or you want to watch Westworld in a room without blackout shades. It also functions as a smart TV, uses Miracast to stream Internet content from your smartphone, and comes with LG's Magic Remote Control for easy navigation.
This article was originally published on