The Gryphon Smart Wifi Mesh System Is the Best Parental Control Hardware Around
It combines website screening, time-management, service pausing, malware protection, and more in one slim, easy-to-set-up package.
by Jon Gugala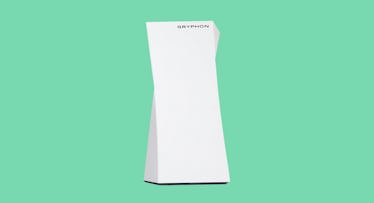 In this day and age, parental control hardware is as essential in your home as a toaster. As our kids become ever more dependent on devices, especially during these days of remote learning, virtual classrooms, and the languor of lockdown, it's more important than ever to set limits on screen time and enact measures to keep kids safe while browsing online. There are myriad offerings to help with just that, from apps to routers and more. And there are a number of excellent options (you know we love you, Circle By Disney). But we have a new favorite piece of parental control hardware: the Gryphon Smart WiFi Mesh router. The sleek router offers everything we want in parental control software and more.
A tall, delicately curved box that looks like a model building designed by IM Pei, the Gryphon is a wifi router that, thanks to its six internal tri-band antennas and 1.3Gbps, blankets an area of up to 3,000 square feet in a powerful mesh network and offers congestion-free browsing. Set up is simple (plug it in, download an app, and you're all set).
The standard features of many parental control devices are all present, save for a rewards program. Screen time management by device, browsing history, bedtime/homework time parameters, safe search, and YouTube filters are all there, with a bonus crowd ranking system for borderline websites, which allows on-the-fence parents to tap into the wealth of experience of others that have gone down the same path and then make a decision. For the occasional exceptions, it allows for remote request and approvals in real time via its app. (Translation: You won't have to leave your desk to allow access for your daughter to research her health class homework.)
But here's the real brilliance of the Gryphon. Because its hardware isn't simply a supplementary device that modifies the usage of your current modem/router combo, there's no way around it. Once enabled, it becomes the wifi router itself, and when set up through the app, it's the chokepoint for all internet usage in the home. Many parental control devices attempt to ensure that intrepid children don't circumvent protection through unplugging the device. With Gryphon, if you unplug the device there is no internet. (Take note, however, that once connected, you achieve this control through renaming and setting a password for the new router, to which all devices then must connect. For those with modem/router combos, you must change passwords to the former network so that children can have internet access through a non-protected point.)
Another reason we love it: The Gryphon Mesh Router's new-to-the-market malware protection and intrusion detection, which automatically alerts you when something suspicious is happening. This facet is one that no other product currently offers, and with phishing and downloading an ever-increasing area of vulnerability for your children, it's nice to have vigilant software in place that monitors and protects.
Finally, since its launch, it introduced its Homebound smartphone software. Once installed on your son or daughter's phone, it extends yours settings to his or her device even when he or she isn't at home and connected to wifi. At its most basic, it does this by routing all traffic on devices back through the Gryphon itself.
If there's one ding for Gryphon, it's that this service is only covered for the first year, after which it becomes a monthly recurring fee. Still, it's added peace of mind when you're not present.
Even with this minor criticism, Gryphon's included features far outweigh its nominal fee after the anniversary. The coverage of the router is expansive, and while it suggests that it's limited to a three-bedroom home, we found ourselves connecting much farther. However, should you need greater coverage that stretches into the west wing of your manor, it pairs with a second unit for a suggested four-bedrooms-or-more area.
For those wanting to further tailor coverage, the company also introduced smaller, more affordable Gryphon Guardian unit. This has a little more than a third of the speed of the tower and a little more than half of the coverage (550Mbps and 1,800 square feet, respectively), but it carries a substantially smaller price tag ($109 at the time of this writing). Buying multiple Guardians makes them even cheaper, with a three-pack selling for $239, which meshes a 5,000-square-foot area. What it comes down to is whether spending the extra money is worth the extra speed or if you're willing to settle for perfectly functional (albeit slower) wifi speeds.
In sum, if one were to examine all the parental control pieces on the market when compared to the Gryphon Smart WiFi Mesh router, nearly all of its features are available in one device or another. But one wouldn't find them all in a single package. To date, the Gryphon represents the cutting edge of the industry, with the most features packed into its obelisk-shaped package. As such, it's become our favorite in a fast-growing market segment.
Every product on Fatherly is independently selected by our editors, writers, and experts. If you click a link on our site and buy something, we may earn an affiliate commission.
This article was originally published on