The Best Parental Control Apps and Devices for Safe Internet Browsing
Protecting your kids on the internet can be exhausting. Here are some easy-to-install parental control routers and other devices to put your worries at ease.
by Fatherly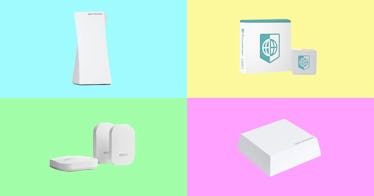 Today's kids might be digital natives, but just because they've never known a world without the internet doesn't mean they're prepared for everything it has to offer. Parents have always been vigilant about keeping their kids out of dangerous situations IRL, and keeping kids safe online requires both the same level of commitment and the best parental control software and hardware. As the YouTube Kids controversy and similar instances show, even sites built as safe havens for young children can easily be corrupted by those with digital savvy and nefarious intentions. Parents today are tasked with not only explaining the Internet to children but also monitoring what sites children visit and their screen time consumption. Thankfully, there are a number of excellent parental control routers, apps, and devices that allow parents to do just this, from the Gryphon Smart Mesh Router to the successor to the Disney Circle parental control device to the Amazon eero Pro mesh network.
The best parental control apps and devices put parents in command of the content their children can view and the amount of time they can spend online. They also help restore a parent's sense of control. With the right tool, parents can restrict access to specific sites and apps, filter dangerous or explicit web-content, manage screen time, and even track their kid's location.
The programs, routers, apps, and devices below are some of the best parental control systems we've found. They're easy to set up, work on a variety of devices for a number of family members, and inform — but don't bombard — parents with necessary updates. Of course, it's also important to supplement parental control devices with regular discussions with kids about online safety. An open dialogue is often the best defense.
The Best Parental Control App and Device Overall
The Best Parental Control App and Device for Large Homes with Multiple Rooms
The Best Parental Control Apps and Devices for Setting Specific Time Limits
The Best for Parental Control Apps and Devices That Work with an Existing Router
Every product on Fatherly is independently selected by our editors, writers, and experts. If you click a link on our site and buy something, we may earn an affiliate commission.
This article was originally published on