The Best Parental Control Apps and Devices for Safe Internet Browsing
Protecting your kids on the internet can be exhausting. Here are some easy-to-install parental control routers and other devices to put your worries at ease.
by Dave Baldwin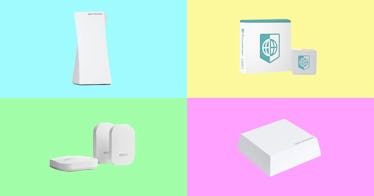 Internet dangers can keep any dad awake at night, but parental control routers and internet parental controls can help ease a troubled mind when it comes to keeping kids safe. Ironically enough, it's the same tech people who provided opportunity for that risk who provided a way to slam the door in its face. Today's options of apps, devices, and the best parental control routers, including the Gryphon Smart Mesh Router, the Circle Home Plus, and the Amazon eero Pro mesh network, will assuage fears while blunting some of the most common ways kids are at risk. So take heart: Where the flesh fails, the machines are ready to serve and protect.
The best parental control software puts parents in command of the content their children can view and the amount of time they can spend online. They also help restore a parent's sense of control while extending peace of mind when they're not in the same room. With a proper device, parents, can restrict access to specific sites and apps, filter dangerous or explicit web-content, manage time, and even track their kid's location. Short of banning our kids from social media, these parental control apps at least give us some idea of what our kid's our doing in front of the screens all day.
The programs, routers, apps, and devices below are some of the best parental control systems we've found. They're easy to set up, work on a variety of devices for a number of family members, and inform — but don't bombard — parents with necessary updates. Of course, it's also important to supplement parental control devices with regular discussions with kids about online safety. An open dialogue is often the best defense.
The Best Overall Parental Control Apps and Devices
The Best Parental Control Apps and Devices for Setting Specific Time Limits
The Best Parental Control Apps and Devices That Work with an Existing Router
The Best Parental Control Apps and Devices for Large Homes and Multiple Rooms
Every product on Fatherly is independently selected by our editors, writers, and experts. If you click a link on our site and buy something, we may earn an affiliate commission.
This article was originally published on