The Best Parental Control Apps to Monitor Your Kids' Screen Time
Six of the best apps for everything from blocking problematic content to managing minutes spent staring into a screen.
by Jon Gugala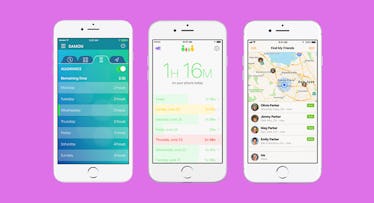 "What exactly is he/she looking at?" you catch yourself thinking more and more. Because that smartphone you purchased for your son or daughter to keep in contact has now become fused to their fingers. Today's smartphones offer near limitless access to information, but they can also access porn, violent images, and other disturbing things your children might not be ready to see. And then there's the very real possibility of addiction to the device's entertainment. But rest assured, with the rise of these devices' ubiquity has come a number of usage apps that help you do everything from block problematic sites to set weekly screen-time limits. We've weeded through app stores thick with offerings to highlight the best of the best parental control and monitoring apps that fit any level of concerned father.
But prior to diving in, let us offer a word of caution: Rather than simply imposing these new boundaries, their introduction can be a valuable moment of dialogue between you and your child. Try discussing with him or her why they're being added and what your fears are. Be willing to compromise on usage. And ask your child how he or she feels about it. You may even decide to add some of them to your own device, since we can all benefit from a little less time staring into our screens.
OurPact Parental Control & Screen Time
This app by Eturi wins the popular vote on the Apple App Store by a landslide, tallying almost four times as many reviews (around 12,000 at the time of this writing) to that of its closest competitors. It's easy to see why: the app's comprehensive list of features, including the ability to block adult content and porn, set up a screen time "allowance" for the week, locate and track children and devices, disallow suspicious apps (and limit others), and even block texts, ticks all the boxes. Take note, however, that devices must have a constant internet connection to update access changes you make. Price: Free, $2-, and $7-per-month plans available, largely dependent upon number of devices (iOS) (Android)
Moment Screen Time Tracker
Monitoring screen time doesn't have to be a punishment, but rather a discussion that you have with your son or daughter. Moment works best for this collaborative philosophy, allowing you — and your children — to implement screen-free times. Instead of locking the device, offenders simply trigger an alarm, which embarrasses rather than frustrates (although a locking option is also available). The app also has a coaching feature to guide you and your children to use devices less. For data nerds, end-of-day results show usage time by device and app, along with the number of uses.
Price: $45 for 12 months of family use (iOS) No Android
xBlock Porn Blocker
The folks at xBlock have created a seamless method of screening for and protecting from explicit images — though sometimes it's too good. For those looking for family use, xBlock may be overly aggressive in its methodology, as it blocks Tumblr, Flickr, Pinterest, and Reddit, along with other, more obvious image offenders. Install it on your child's device, and its web browser constraints activate, with an option to custom input websites you feel are over the line. For fathers who want the most stringent protection, this is the app for you. Bonus: in an age of monthly subscriptions, we especially liked its one-time fee.
Price: $8 for family sharing between six (iOS) No Android
SaferKid Text Monitoring App
It might be marketed for children, but SaferKid would be better titled Big Brother. Monitor texts. Check phone calls and contacts. Peep web browsing history. It's all there, along with adult-content blocker, screen limiting, and app-download alerts and disabling, and even coaching on how to speak with your child about sexting, bully, adult content, and more. Hands down, it is the most robust — and invasive — app on the market. But credit the eponymous app designer, which allows for scaled freedoms as children get older and trust is earned.
Price: From $15 per month (iOS) (Android)
Nintendo Switch Parental Control
The Switch is super kid-friendly, hence its appearance on our list of best games for kids under 10, but its popularity can also border on unhealthy. Enter the Nintendo-built app for their system, which sets a daily play-time limit, notifies him or her when time is running low, and allows for the restriction of communicating with others. At the end of the month, the app displays total time along with a drill-down summary of usage. The app is far from perfect—many complain that users can't be managed individually, instead only by device—but odds are the company is working on a patch as we speak, and with the system's popularity, it's currently the only way with which to manage your child's gaming. Price: Free (iOS) (Android)
Find My Family, Friends, Phone
With enough established trust, sometimes all you need is just where your son or daughter is. Enter FMFFP, which does just that. Pop-up notifications alert you when your children get to where they're going, when they leave, and how they got there, with a bonus driving report, allowing you to monitor speeding.
Price: Free, with premium features starting at $3 (iOS) (Android)
This article was originally published on