The Best Supplies for Painting With Kids, According to an Artist
The right painting supplies make a big difference.
by Hudson Lindenberger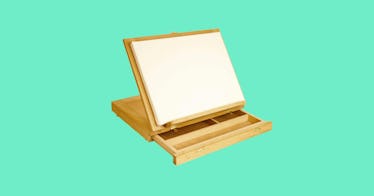 Kids don't need much motivation to paint. And you don't need that many art supplies to let them do so. What you do, need, however, are the correct supplies. There's a sea of watercolors and paintbrushes and paper out there and, in an Amazon Prime-ordering world, there's a good chance of selecting items that won't lead to the best experience. That's why we reached out to Lika Gitis, a professional artist and the owner of Sunflower Art Studios, a children's art studio in Boulder, Colorado. Gitis spends her days teaching kids how to put paint to canvas and paper and was quick to tell us what should and shouldn't be in a young painter's artistic arsenal — all while keeping things affordable. Here, with Gitis' advice, are the children's painting supplies to have around your home.
Folk Art Acrylic Paint Set
"Acrylic paints are some of the most fun to work with for children," says Gitis. "They can create textures with them and make new colors by mixing them." This set of 18 vivid colors from Folk Art blend together simply, are non-toxic, and hold their color long after the project is done. One of the things that Gitis likes best is the easy-to-use plastic containers they come in, which she says makes it easy to put unused paint back in at the end of a session, something you cannot do with paint tubes.
NicPro 12PCS Paint Brush Set
There is no reason to spend a lot of money on paintbrushes for children. In fact Gitis recommends avoiding the more expensive ones made from natural hairs, their thinner bristles are much harder for kids to control and they don't last as long as synthetic ones. This 12-piece set from NicPro is made from nylon and offers a wide array of shapes and styles of brushes. Gitis avoids letting younger kids use anything larger than half-an-inch since they are hard to manipulate and kids end up making a mess on the paper. Instead she recommends smaller brushes with rounded tips. These are great for detail work yet still get decent coverage.
Canson Montval Watercolor Pad
There are two things, per Gitis, that you should not scrimp on when buying painting supplies: the paint and paper. "It really will make the whole experience much less enjoyable if the paper is falling apart or the paints won't work well," she says. For larger projects, Gitis she loves this 15 x 20 inch pad from Canson. The paper is thick enough that it easily absorbs the paint and has just enough texture that kids can get really creative. She also recommends buying paper in pads because it's easy to just tear off a sheet than buy a single stack.
Canson XL Series Watercolor Paper
For smaller projects, or practice, Gitis recommends using this 9 x 12 inch pad of paper. It has 30 sheets of paper that will work in multiple mediums at an economical price.
Sakura Cray-Pas Expressionist Oil Pastels
Pastels, per Gitis, are a great way to let your child really expand their art as they allow kids to bridge the gap between painting and drawing. This kit has 50 different vivid colors that easily blend together and are simple for any age of child to use.
Prang Half Pan Watercolor Set
You don't want to go cheap on watercolors, as the colors are dull and the kits tend to fall apart. Instead, Gitis says, to look for those that are created for schools like this set by Prang. It comes in a solid case and has a great selection of colors. Plus, the semi-moist colors are bright, easy to use, and wash off easily. A simple hack that Gitis recommends? Use a water spray bottle moisten all the paints, that way kids don't make a mess dipping with the water on their own. Sold in sets of six.
Plastic Jars
When you are painting you need containers for the mixing of paints and the depositing of dirty brushes. You can use old drink cups, sure. But if you're looking for a recommendation, Gitis swears by these plastic jars since, which are durable, can be sealed up between uses, and are easy to clean out.
Paper Plates
There is no reason for you to go out and buy your child an expensive palette to use to paint with. According to Gitis heavy weight paper plates do the job perfectly. There is more than enough space on these 9-inch plates to lie out several colors of paint and mix them easily. "Just don't wash the paint off them at the end of the day, it will clog your pipes over time," she says. "Instead, these biodegradable plates will break down quickly over time."
US Art Supply Solana Table Easel
Until children hit 10 years old Gitis recommends letting them just paint on a table with a drop cloth beneath them. But, once they hit double digits, however, Gitis says you should invest in an easel so they can learn to paint vertically. This simple tabletop version offers you a storage drawer to keep brushes in, easily adjusts angles, and folds into a small package that makes storage simple. Plus, it's affordable.
Artists Loft Canvas
When it comes time for your little painter to start working on canvas (Gitis recommends 8 and up for this transition) you want something that is stretched tight. Loose canvas's are hard to paint on and can easily lead to frustration. This set of six 12 x 16 canvases offers them enough space to work, are stretched tight, and made of sturdy material.