The Best Convertible Diaper Bags
Nobody will ever know you're carrying butt paste.
by Dave Baldwin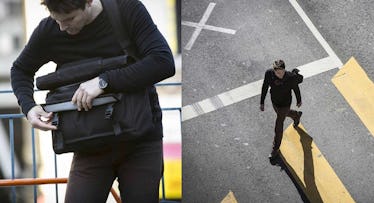 By now you're familiar enough with diaper bags to know that not all of them come in pink paisley. Or, that all diaper bags have to actually be diaper bags in the first place. There are a ton of cool backpacks, messengers, and briefcases on the market that can easily be converted to wet wipe-carrying diaper bags with a little creativity and/or a dogged determination. After all, you'd rather NOT be seen toting a Hello Kitty satchel about town, right? Here are the best convertible diaper bags on the market.
Indestructible Convertible Diaper Bag: GORUCK Echo
Designed by a former Green Beret to withstand anything a new baby (or a GORUCK obstacle race) can throw at you, the Echo is a military grade, low-profile diaper backpack (essentially, a smaller version of their GR1) with both a main compartment for diapers, wipes, and clothes, and a 15-inch bombproof laptop pocket — in case that tube of rash creme accidentally explodes. It also rocks an external slant pocket for easy access to your keys/phone, and it can be customized with a velcro patch of your choice — perhaps one that reads "No. 1 Dad?"
Briefcase Convertible Diaper Bag: Filson 24-Hour Tin Briefcase
You're not going to want to dedicate a briefcase this handsome exclusively to diaper duty; think work bag during the week, baby snacks on the weekend. It's made of oil-finished, milk-repellent cotton Tin Cloth, includes both leather carrying handles and a shoulder strap, and features a snap-closed storm flap — which is good, since life with an infant is like a hurricane. Most importantly, there a bunch of compartments for all your stuff (baby or work-related), including a laptop divider and 2 nice slotted zipper pockets on the outside.
Totally Incognito Convertible Diaper Bag: MiiR 20L
Not only will you feel good when friends and strangers remark about your "very cool" diaper bag, but also when you think about how part of the cash you dropped on it goes to helping educate kids around the world. So, it's win-win. The MiiR 20L is made from gray or black spit-up-resistant nylon and features a rolltop closure, 15-inch laptop pocket, and both an exterior water-bottle sleeve and quick-access side zipper — so you can get that juice pouch out before the screaming starts.
The Messenger Convertible Diaper Bag: Mission Workshop Monty
You can take the father out of the city, but you'll never take the city of the father. Mission Workshop's Monty weatherproof diaper messenger not only boasts a big main compartment with an internal zippered pouch, but 2 quick-access cargo pockets and storage for your laptop. Even cooler, the bag closes in either a "roll top" or "flap down" mode, so you can decide which is easier to access with baby in your arms. It comes in six colors with customizable aluminum hardware and a detachable cross-chest stabilizer. Seriously, people won't know whether you're delivering a kid to daycare or an envelope of important documents on your fixie.
Most Organized Convertible Diaper Bag: INCASE GoPro Action Camera Bag
The beauty of the INCASE lies in its large dividable compartment: not only can it hold up to five accessory organizers, but it's also accessible from three sides of the bag — so when the poop starts flying, nothing will stop you from getting to that changing pad. The diaper backpack comes with a "faux fur lined iPad slip pocket," rain fly, and even features an "integrated action camera mount" on the shoulder strap so you can film the whole damn diaper change, should you be so inclined.
Phone-Charging Convertible Diaper Bag: HP Powerup
From the outside, the HP Powerup is a handsome, nondescript gray canvas backpack with reinforced leather handles. But open it up and prepare to be … electrified (note: It won't really electrocute you). Inside the front pocket, there's a single 22,400mAh/84Wh battery that can charge up to 3 devices, multiple times: A laptop (once), a tablet (3 times), or your phone (10 times).
This article was originally published on