The Best Nintendo Switch Accessories to Upgrade Your Gaming Experience
The controllers, stands, and — most importantly — cases and screen protectors, to take your Switch experience to the next level.
by Jon Gugala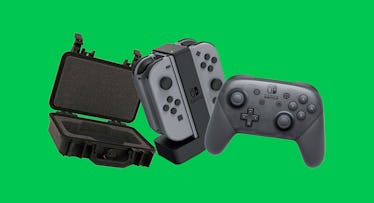 Debuting just over a year ago, the Nintendo Switch ignited because of its versatility of gameplay. On the road or at home, single player, with friends, or online around the world, it's a worthy successor for a company that has changed the gaming landscape with each new release. But you know all of this, because for the last year your son or daughter or, let's face it, yourself have either been hoping for one or haven't put it down (damn that Breath of the Wild is incredible). Even with its myriad strengths, the Switch's accessories can upgrade the already enjoyable experience or simply keep it safe from damage so you can keep enjoying it. Here, then, is a list of our favorite Nintendo Switch accessories, from cases to controllers, that enhance your gaming experience.
Pelican 1170 NINS Case
There are cases, and then there are cases. This battle-tested brand's shell protects the Switch with Joy-Con controllers attached, as well as six games and numerous cords and straps from water, dust, and, most importantly, compression. Worth every penny.
Insignia Joy-Con Charging Station
For big families and/or multiple units, the four charging docks in the Charging Station were a godsend. Replenish two units' controllers simultaneously on a revolving carousel to keep the gameplay going.
Hori Compact Playstand
Long-term tabletop playing with Nintendo charging options has been tricky — chargers either blocked the screen or weren't compatible due to the position of the kickstand. The Compact Playstand by third-party Hori elevates the unit, allowing for multiple angles of viewing while the unit connects to an outlet. Bonus: It folds flat for transport.
Nyko Swivel Grips
Tiny hands are growing by the day. These ergonomic two-piece exoskeletons slip over the Joy-Cons to provide a more comfortable grip. The clear plastic fits snug, doesn't scratch, and collapses easily for storage when your kids are done. They're also great for father-size hands during head-to-heads, too.
Nintendo Pro Wireless Controller
Plenty of companies make controllers, but by far the most popular is Nintendo's own. No cords to tangle and long playtime thanks to a lithium-ion battery, when it comes to the battle for control, this unit consistently comes out as a favorite. Unless your kid is specializing in fighting games, this is the best do-it-all on the market.
amFilm Tempered Glass Screen Protector
One of the easiest accessories to overlook and also one of the most important, the Tempered Glass protects your kid's Switch from scratches, cracks, and minor spills. We appreciated the two-pack, setting a reminder after six months to check for separation and slap on a new one.
Samsung 256GB 100MB/s (U3) MicroSDXC EVO Select Memory Card
The big mother. Your kids will never, ever fill this up, and its fast write speed will ensure saves happen as fast as demanded. Officially licensed Nintendo cards frankly don't hold a candle to these.
Nintendo Poké Ball Plus
For the hardcore Pokémon fan and its multiple Nintendo offerings (Pokémon: Let's Go, Pikachu! and Pokémon: Let's Go, Eevee!), the Poké Ball Plus, out in November, acts as a specialized controller. Spot a critter and make a throwing motion to catch one and, if successful, the unit vibrates and makes a unique sound, letting kids know there's one inside. Even without the Switch, kids can carry it with them and hear their Pokémon chittering throughout the day.
Every product on Fatherly is independently selected by our editors, writers, and experts. If you click a link on our site and buy something, we may earn an affiliate commission.
This article was originally published on