The Best New 'Rise of the Teenage Mutant Ninja Turtles' Toys
Including action figures, costumes, and the largest TMNT play set ever released.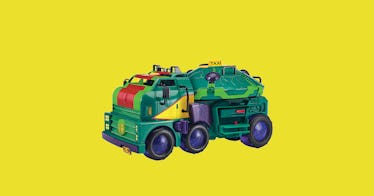 This fall, the Teenage Mutant Ninja Turtles kicked their way back into the mainstream with a brand new animated Nickelodeon show. Rise of the Teenage Mutant Ninja Turtles follows younger versions of the four bodacious brothers as they seek to unlock their powers and the mystical secrets of NYC. (Like rent stabilization.) Every iteration of Raphael, Michelangelo, Donatello, Leonardo, Splinter and Shredder comes new toys and this relaunch is no different. The new releases include a variety of fun play sets and toys that offer new looks, new weapons, and new takes on some classic cowabunga. Here are some of our favorite new Rise of the Teenage Mutant Ninja Turtles toys.
Rise of the Teenage Mutant Ninja Turtles Sewer Lair Playset
Every noble ninja needs his downtime, and the 43" tall — the largest TMNT action figure play set ever made — Sewer Lair is the perfect place to rest your shell. Four Turtles means four levels of play, featuring seven rooms including Splinter's dojo, Raph's gym, Leo's arsenal, Mikey's arcade, and Donnie's lab. Also included are a catapult basketball hoop, hidden projectile launchers, and a rotating skateboard ramp. Dudes…when can we move in?
Rise of the Teenage Mutant Ninja Turtles Role Playing Gear
Kids can embrace their inner hero on the half shell with the ROTMNT role playing assortment, which includes a signature mask, weapons, and throwing stars. Pick your Turtle, hit the streets, and see how much free pizza you can get from the neighbors.
Raphael 3D BRXLZ Construction Set
Standing a mighty six inches tall, this 1,251 piece brick statue is perfect for those TMNT fans with ninja-level patience. When you're finished, you'll have a blocky bud who captures all the magic of the original NES TMNT game, without the frustration of that infuriating water level. Ugh.
Rise of the Teenage Mutant Ninja Turtles Shell Hog Cycles
These two-wheeled Turtle transports are equipped with spring-loaded missiles, adjustable seats, and the power to link together to form one monstrous motor machine. The first wave includes two cycles and exclusive Leonardo and Michelangelo figures.
Rise of the Teenage Mutant Ninja Turtles Turtle Tank
When the Turtles need some serious firepower, the Turtle Tank is ready to roll. This awesome armored transport is two toys in one. Engage "vehicle mode" to open the front cab and let the Turtles run roughshod over their rivals, or switch to "spy mode" and raise the high-tech removable lab high above the bad guys to stop crime from above. Need more ninja? Attach one or two of the Shell Hogs (see above) and get ready to stomp some Foot!
Classic Adventure Bones Dice Game
Roll the dice and let the fates determine whether or not you'll send Shredder back to Dimension X, or wind up as a steaming bowl of turtle soup. The game features 11 ooze-green dice, and is perfect for 2-8 players, which means kids can face off friends, or test their mutant mettle in a bodacious battle royale.
TMNT Battery Operated Road Race Set
The classic figure eight racetrack is revved up with a TMNT twist. Take it to the streets in either the high-speed Turtle Buggy, or the sleek Shredder Coupe. These things are so fun we're ready to call "shotgun", and ignore the fact that the "Teenage" Mutant Ninja Turtles aren't even old enough for driver's licenses.
Rise of the Teenage Mutant Ninja Turtles DELUXE figures
They flip. They land. And they let out a raging ninja yell to frighten away The Foot. Each figure stands five-and-a-half inches tall, comes with a signature weapon, and is spring-loaded to keep flipping, spinning, and twisting while all the slow, real turtles turn green(er) with envy.